When you're selling anything online, you have one chance to grab the attention of a potential buyer. That's your chance to convince them that your product is the one they need. Online shopping does have its perks. It's open for business 24/7 and lets people shop from the comfort of pretty much anywhere. But the big drawback is shoppers can't see or touch the products IRL. What's the solution? An interactive product page! It provides shoppers with a 360-degree view of an item, and helps them understand its features and benefits in depth.
What Is an Interactive Product Page?
The fun thing about shopping in a brick-and-mortar store is that people get to touch the products they're considering purchasing. They can pick them up, feel what they are made of, and get a sense of overall quality and heft. In some instances, they can even give the products a try.
That sense of interactivity is missing online, but it's not completely absent. At least, it doesn't have to be. It's up to a brand to create interactive product pages for the items it sells. Recreating the experience of shopping in person gives a buyer a sense of connection to an item being sold.
Elements of an interactive product page can include:
360-degree views of the product
Product photos IRL (such as customer photos, or photos showing the product in action)
Product demo (such as a video featuring the product)
Social sharing buttons
Clear call to action
Full description of product and its options (colors, size range, etc.)
Ability to customize product (e.g., the customer can change the color and have the color change in the photo)
User reviews
Interactive Product Pages in Action
When you're trying to figure out what to include on an interactive product page, or what interactive features provide the most value to customers, it helps to look at examples of product pages from other brands.
Looking at examples will give you an idea not only of what works and what doesn't, but also how an interactive product page can come together, and the number of possibilities that exist for designing and styling the page.
Take a look at some interactive product pages from several different companies:

Bellroy Wallets
A unique selling point (USP) is something that sets a product apart from others in its category or niche. There are probably thousands of different wallet brands out there, so Bellroy had to do something to distinguish itself from the rest. Its USP? It's slimmer than a typical wallet.
Even better, the brand has an interactive product page that illustrates the difference between it and the average wallet. The page features a slider that lets you adjust how many cards are in the wallet. Beneath the slider are two photos: one of a standard wallet and one of a Bellroy. As you move the slider up and down, the thicknesses of the wallets change.
Additionally, the page features a video that describes how the Bellroy is put together, as well as a quick questionnaire to help people choose the best wallets for them.

Lego
Lego is all about encouraging imaginative play in kids, and the brand's interactive product pages do just that. The pages feature images of specific toys from Lego (in this case, a pizza van) "in action." For instance, the pizza van owner mini-fig is shown opening up his van for business and selling a pizza to a customer mini-fig. In another image, a pizza delivery mini-fig is shown scooting off with a delivery.
The product page also has a video of the pizza van in action, plus downloadable instructions for assembling the van.

Burberry
For some, the idea of buying a luxury product online is just a no-go. For that reason, some high-end designer labels still only sell their clothing in stores.
Not Burberry. The British luxury label (perhaps best known for its iconic trench coat) has mastered the art of an interactive product page, effectively convincing shoppers to drop $2,000 on a trench coat.
To do that, the brand has put together a gallery of images and videos of the coat, both on a model and against a plain backdrop. To help customers get the sizing right, it has an interactive size guide. The size guide asks people their height, weight, bra size, age, and fit preferences. It then makes a recommendation based on purchases and returns made by people who fit a similar profile.
Another feature offered by Burberry is product recommendations. The brand isn't just selling a trench coat — it's selling a style. Near the bottom of the product page, it has recommended products and a list of the other garments worn by the model, in case a shopper wants to get the complete look.

Rent the Runway
Rent the Runway lets women rent clothing for special occasions, or just for everyday life. The tricky thing about its business model is that a customer can choose a garment for a big event (such as a wedding or work presentation), only to have it arrive a day before the big day and be a total disaster.
To cut down on disappointments, Rent the Runway uses interactive product pages to provide customers with as much information about its products as possible. For example, the product page for a Kate Spade romper has reviews warning that the zipper is wonky, and that the romper is tricky to get into and out of (making bathroom breaks a real chore).
Along with reviews, Rent the Runway has detailed fit information about each of its products. It will recommend or not recommend certain products for particular body types (apple-shaped, pear-shaped, and so on), and provides details on whether there's any stretch or give to the fabric. It also lets people upload pictures of them wearing the clothing, so that other shoppers can see what it looks like on a real person.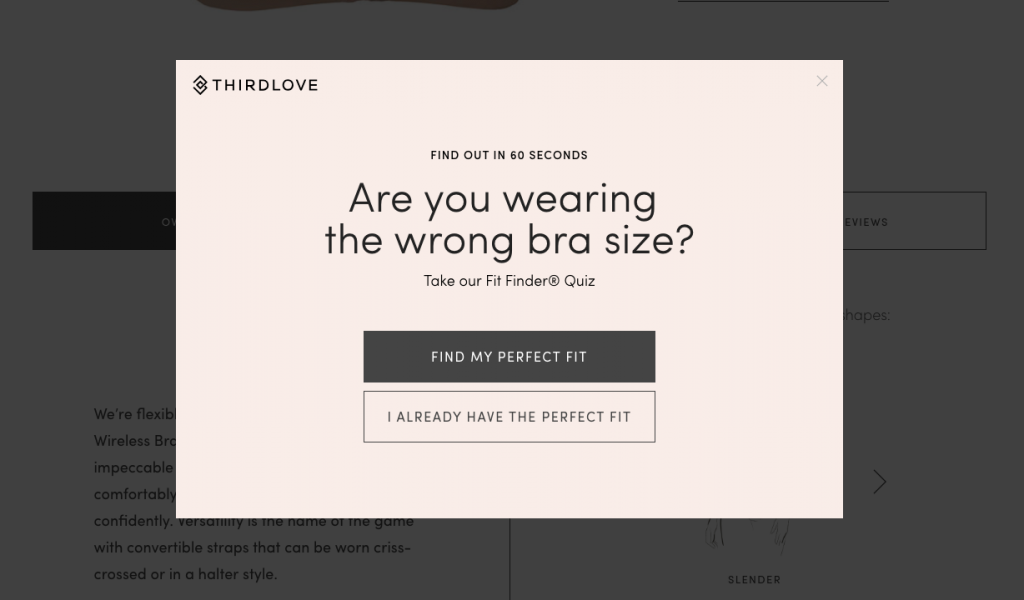 Third Love
For many women, bra shopping in person is a nightmare — so the idea of buying a bra online can be a total non-starter. But Third Love has gone above and beyond in terms of creating interactive product pages for its bras, and demystifying the bra-buying experience.
To help women get the right fit, it doesn't just ask them to measure themselves, like so many bra companies do. Instead, it has a quick questionnaire that asks detailed questions about bra preferences and breast shape. The company then recommends particular styles to customers based on the results of that quiz.
On the product pages themselves, there are multiple images of each bra, plus a 360-degree view of the bra. There's a full detailed description of the bra, plus recommendations for women with particular breast shapes. To give shoppers an idea of what the bra is like IRL, the product pages also have reviews from other buyers.
Interactive Product Page Takeaway
Short of sending your customers free samples of your products, interactive product pages are the best way to help them get a real feel for what you're selling before they make the decision to buy. Whether you want to improve the shopping experience, encourage people to make the most of your product, or highlight exactly what it is that makes your company different, interactive product pages are the way to go.