Twitter is one of the oldest social platforms, arriving on the social scene in 2006, just two years behind Facebook. It has evolved through the years and now counts many prominent influencers as users. From former presidents and award-winning singers to notable business leaders and fashion icons, Twitter has a vast base of influencers. 
How much does it cost to work with a Twitter influencer? As more companies connect with influencers to promote a product through social endorsements, compensation for Twitter influencers has become a hot topic.  
Can you trade products for posts?
Twitter influencers aren't likely to trade free publicity for a free product. While product-only compensation was common in the early days of influencer marketing, 70% of influencers expect compensation and a free product or service. 
There may be a few newcomers who are still willing to trade products for favorable posts on Twitter, but expect most influencers to ask for payment. 
Factors that influence compensation
Compensation varies. Why? No two influencers are alike. Each has his or her own audience, voice, values, cadence, and content quality, which is why influencer marketing is so hard to price. There are, however, factors that drive compensation up, such as:  
Audience size
As you might suspect, influencers with mega audiences often charge more. You'll see a direct correlation between compensation and audience size.
Type of content
Different types of content require different time commitments. A Twitter image costs less than a video. A product review costs less than an ebook. The more work it takes to create the content, the higher the cost. 
Engagement rates
A seasoned influencer will provide engagement rates for everyday traffic and for sponsored posts. Influencers with great engagement can charge more. Engagement rates between 2-3% are average, 4-6% are excellent, and anything in the teens is considered viral.
Exclusivity
If you find an influencer that really connects with your audience, you may want the influencer to work with your brand exclusively. If that's the case, an influencer must sign a non-compete agreement and receive compensation that makes up for potentially lost income. 
Paid ads
Some creators may also charge to create content that is promoted in paid ads.
How much do Twitter influencers charge?
Twitter influencers are actually the most affordable option for a brand. For a few hundred dollars, an influencer can craft a tweet with the appropriate tags and hashtags. IZEA has analyzed influencer compensation and offers specific details.
Average cost for a sponsored post on Twitter
An influencer campaign on Twitter is the most affordable option compared with other platforms. An influencer endorsement on Twitter costs an average of $284.  
A Twitter campaign is about three times less expensive than a Facebook post, which costs an average of $833, and drastically less than a YouTube campaign, which has an average cost of just below $4,500.
Why is Twitter so inexpensive? The most likely reason is its content simplicity. The platform is text-driven, so it often takes less effort for an influencer to write a 280-character message that promotes a product or service. Still, they can be effective campaigns, especially for a brand's inaugural outreach. 

Average cost of a sponsored Twitter post by audience size  
As mentioned, the size of an influencer's fan base plays a role in compensation, too. Influencers are broken into groups based on the number of followers they have. The tiers are as follows:
Nano-influencer: 1,000-9,999 followers
Micro-influencer: 10,000-49,999 followers
Mid-tier influencer: 50,000-199,999 followers
Macro-influencer: 200,000-499,999 followers
Mega-influencers: 500,000-999,999 followers (or more)
The State of the Influencer Earnings™ 2022 shows payment across all platforms based on an influencer's audience tier. You'll notice compensation increased from 2020 to 2021 for all tiers. 
In 2021, a nano-influencer charged right around $800. The next tier up, a micro-influencer, charged around $1,500, while mid-tier influencers charged about $3,000. Macro-influencers charged about $5,000 and mega-influencers topped the chart at almost $7,000 per post. 
All of these rates represent record highs since IZEA started tracking payments in 2015. In IZEA's creator marketplace, brands can also find creators with rates starting at $50 for Twitter posts. That's because this platform allows creators to set their own prices.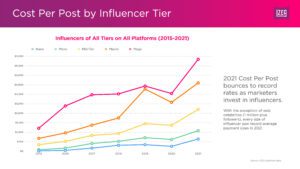 Ready to work with a Twitter influencer? Before you reach out, review the State of Influencer Earnings 2022 report from IZEA today. You'll get an in-depth analysis of the influencer marketing economy and learn what it means for your brand's marketing budget.