Instagram is the perfect platform for amateur and pro photographers to show off their talents. But with users sharing an average of 80 million photographs each day, getting the exposure you need isn't always easy. Using the Best Instagram Photography Hashtags improves your content's chances of floating to the surface.
Hashtags provide a way for content creators to organize their work and present it to the right audience. In fact, posts with at least one hashtag average 12.6 percent more engagement than posts without. But which hashtags are the best? It really depends on how you define "best."
Do you want a larger reach? Want to deliver tailored content for a niche market? Or, do you simply want to build an audience? Here are 10 of the best Instagram photography hashtags for a range of marketing goals. 
The 10 Best Instagram Photography Hashtags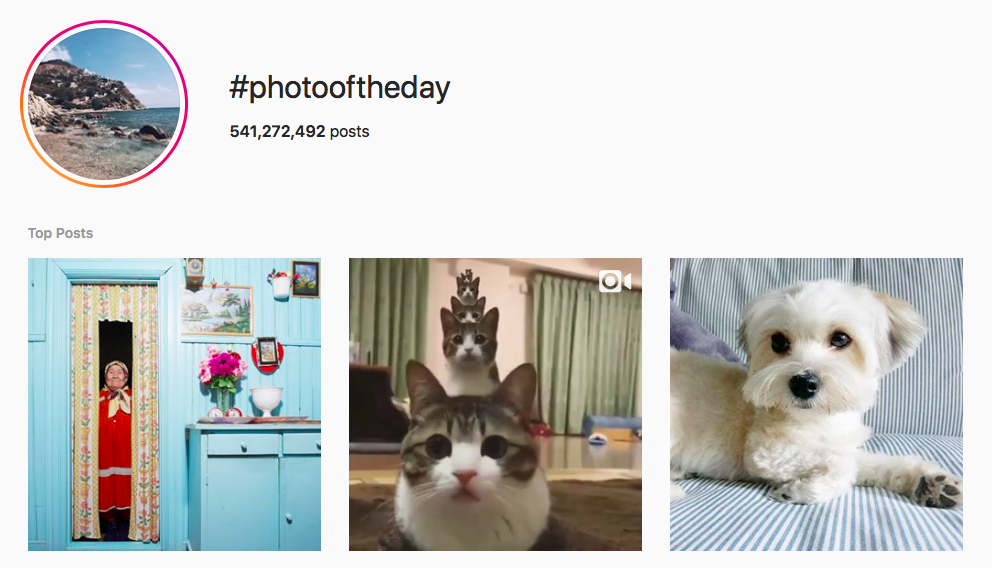 #photooftheday
The "photo of the day" hashtag originates from an account founded by Luca Anania. It's a useful way for anybody — and especially photographers — to get some additional exposure. Each day, tag your best photograph with #photooftheday. The account operators may select your work to showcase on the official feed for over 269,000 followers. Unfortunately, there is only one "winner" each day. And, the hashtag is widely used, with over 540 million lifetime uses as of June 2018. Getting the recognition you deserve through this tag isn't easy.

#followback
When you're first starting out on Instagram, the idea of building a large audience may seem rather daunting. Using #followback (or similar tags such as #followforfollow) serves as a quick way to start gathering a crowd. By using this hashtag, you agree to follow back any account that follows you. On one hand, this does help to build an audience. Unfortunately on the other, many of your followers aren't really going to be interested in what you're posting.
These "spam" tags only attract those people who want personal gain from the exchange. Because so many people use them, they result in sprawling feeds of photographs without specific appeal. It's usually better to focus on creating content and serving it to people who are genuinely going to care. But #followback may be useful for a quick boost to set you off on the right foot.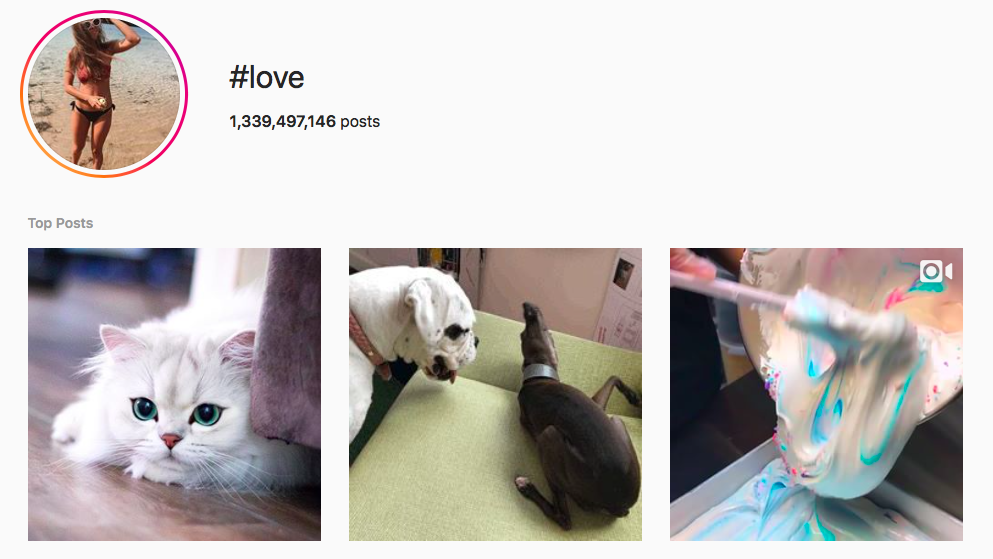 #love
The art of the photographer is to capture moments of emotion and preserve them forever. Whether it's a stunning landscape or an intimate portrait of close friends, #love is a suitable tag for almost any photograph.
This is actually the most widely used Instagram tag. That means using it helps to ensure your work appears in front of more users. That being said, appearing in a feed with well over one billion images means the chances of your work standing out in the crowd is greatly diminished, and your photographs may only appear in the list of most recent shares for a few seconds.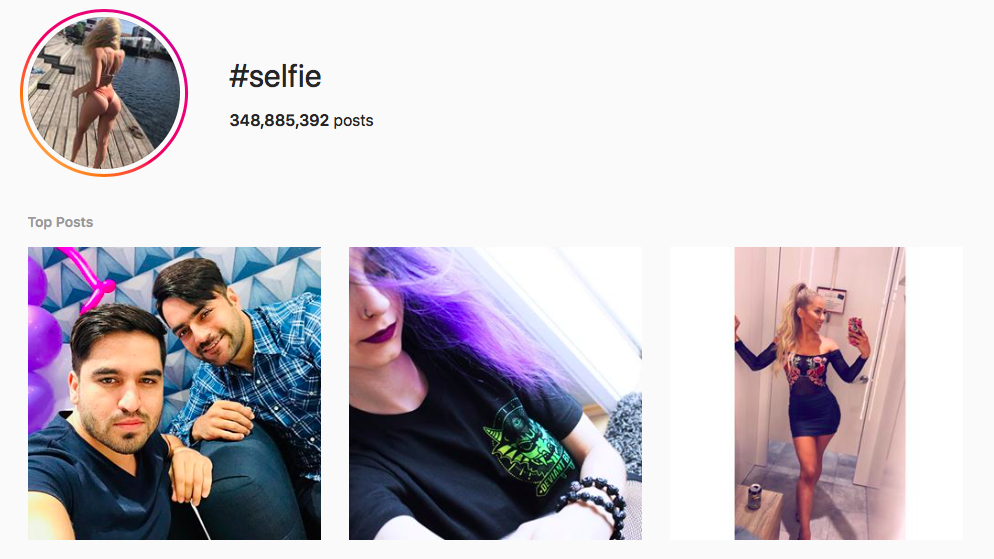 #selfie
It's not surprising to find that #selfie is one of the best Instagram photography hashtags in terms of how many people use it. Self portraits are a standard on social media, and it seems like people never get bored of them. But always keep in mind that when you use a tag that other people have already used over 348 million times, an avalanche of newer content quickly buries your work. Don't expect to maintain optimum visibility for more than a few minutes.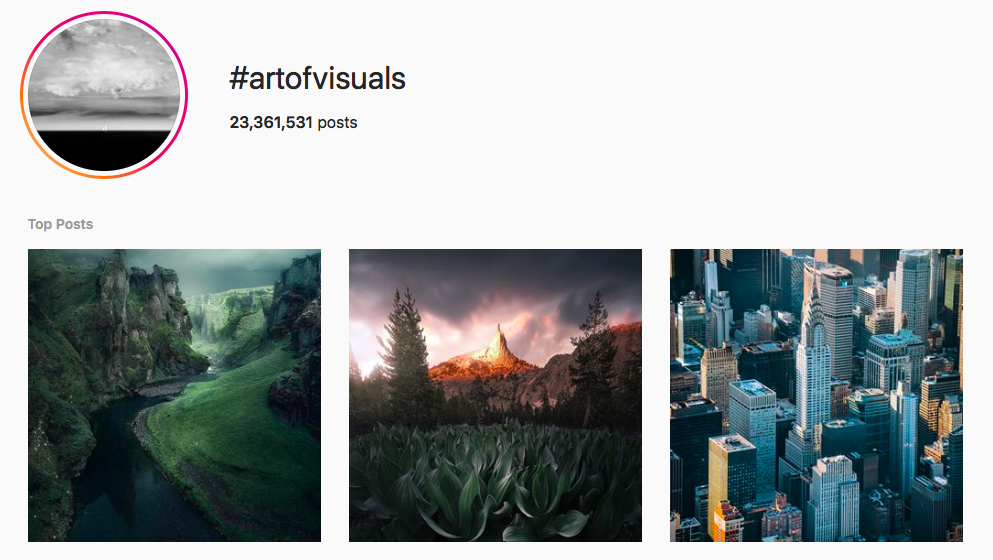 #artofvisuals
A great way of sharing your content is to become part of an Instagram community. The Photo of the Day account is one of the most popular, but there are many others that are specifically for encouraging and promoting photographers, such as Art of Visuals, which has over 1.3 million followers. Join the collective, and start tagging your work #artofvisuals. You may end up with featured content on their feed.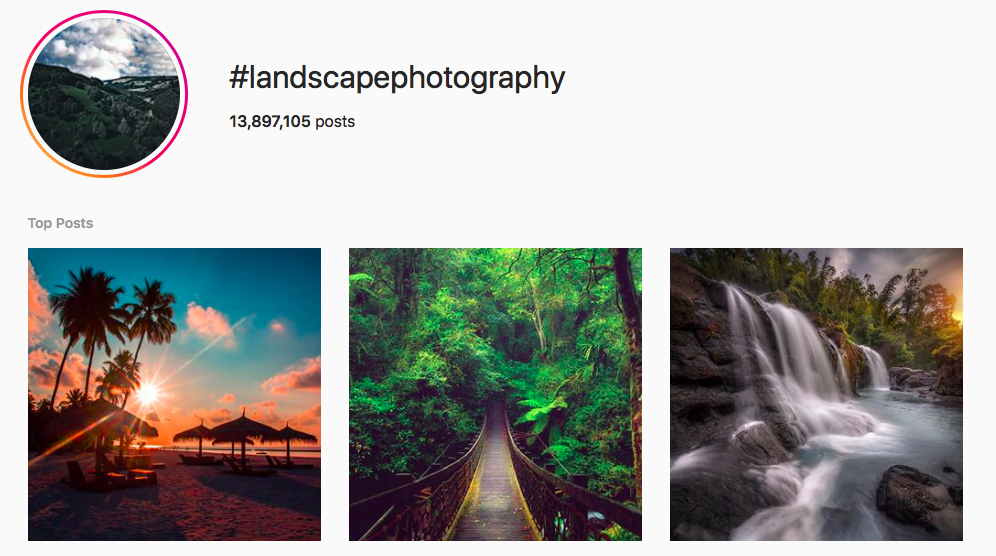 #landscapephotography
Introducing your work to as many people as possible is great, but as a photographer, you really want to show off your work to those people who are specifically interested in the type of content you create. After all, there's no point showing your landscape photographs to 50,000 people who want to see portraits. General hashtags cast your net wide, but you may experience a better level of engagement by using something more specific. If you specialize in landscapes, try #landscapephotography, which Instagram users have used over 13 million times.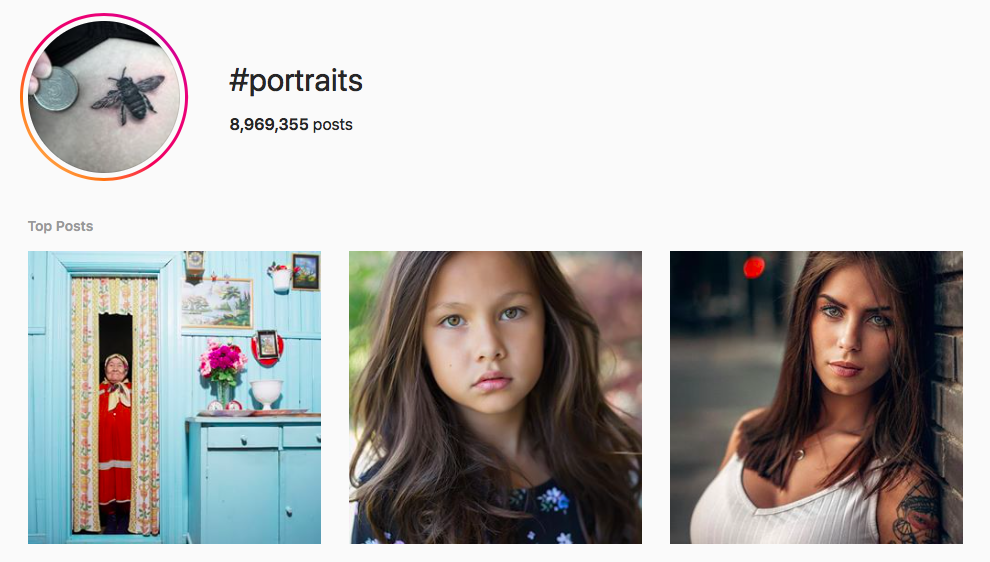 #portraits
As a portrait photographer, you don't want to lump your work in with the #selfies crowd. Using targeted hashtags such as #portraits, which has almost nine million uses as of June 2018, is a good option. There's still a large potential audience in a targeted demographic, but your work has a bit more room to breathe.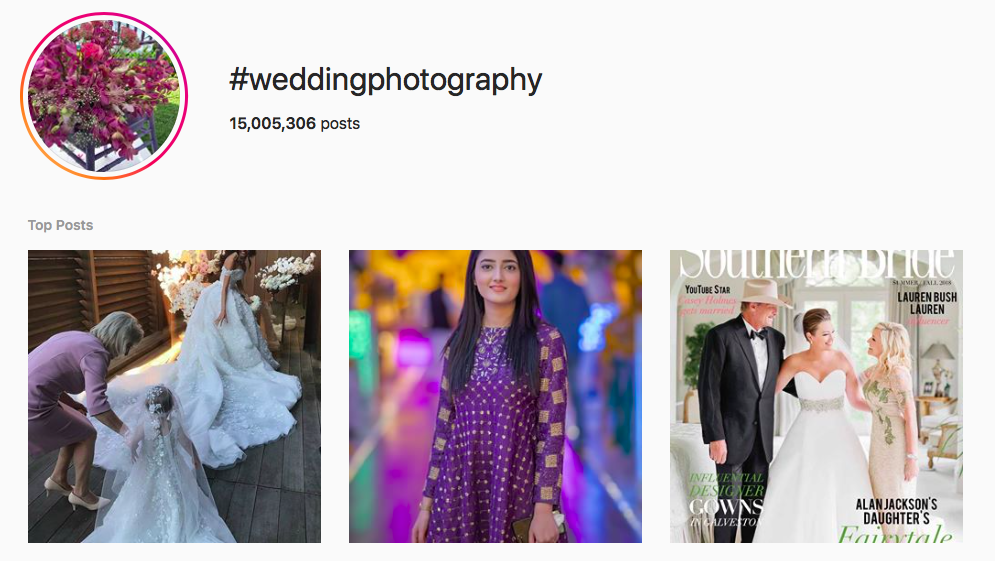 #weddingphotography
Instagram is a great way to spread the word about your photography business — as long as you're using the best Instagram photography hashtags for your market. For example, if you're a wedding photographer, you want to use tags such as #weddingphotography rather than more generic photography tags. If you're working in a local area, don't forget to use geo-tagging to include your location on every post, which has the potential to boost engagement by 79 percent.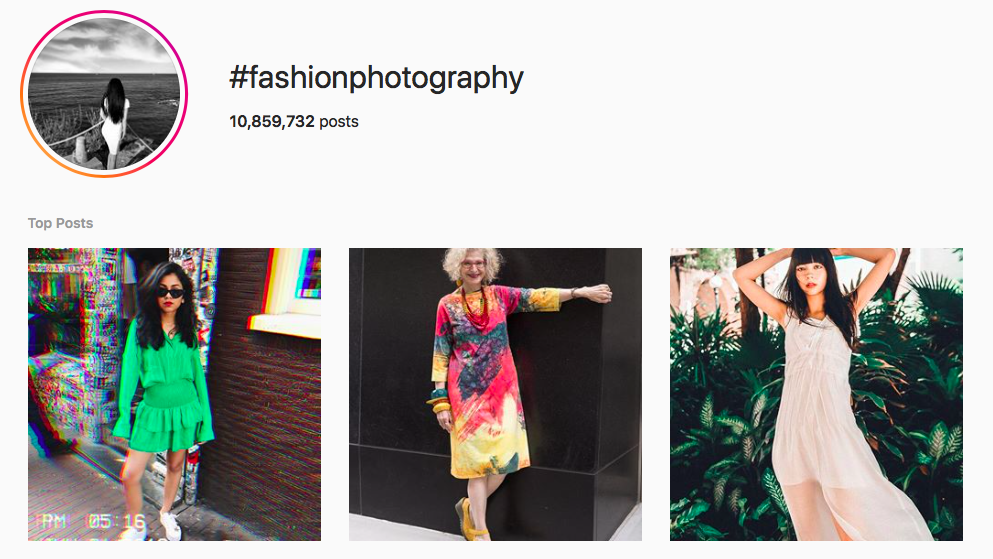 #fashionphotography
Many fashion influencers make good use of Instagram, and there are plenty of people who want to show off their unique styles, making hashtags such as #fashion very popular. But if you're a fashion photographer, it's a good idea to use specific tags so your work doesn't disappear in an oversaturated feed. For example, #fashionphotography still has a massive feed (with over 10 million uses), but it's easier to stand out there compared to the #fashion feed (which features over 525 million images).
#wildlife
Grumpy cats and cute dogs have a huge following on social media, but many Instagram users are interested in taking a walk on the wild side and seeing animals that are a little more exotic. If you have a penchant for capturing the majesty of animals in the wild, #wildlife is an obvious tag for you. Use it in conjunction with #wildlifephotography to find the market your work really resonates with.
Finding the Best Instagram Photography Hashtags
Making a mark on Instagram or developing a rep as a photography influencer doesn't happen overnight. You need to be dedicated, offering your audience a steady stream of high-quality content, and using the best Instagram photography hashtags to extend your reach and attract new fans. It's possible to use Instagram's built-in auto-complete and "related tags" functions to find the most popular hashtags, but it's also worth using some dedicated software to help you select tags that offer the best engagement. Additionally, follow as many photography influencers as possible, and pay attention to the hashtags they use and the trends they set.