Have you ever heard of Boxed Water? The brand, which sells water in milk cartons rather than plastic bottles, markets its product as an environmentally sound choice. Rather than adding to the 2 million tons of discarded water bottles in landfills, the company wants consumers to "reduce their carbon footprint" by avoiding bottled water in stores.
To spread its environmentally conscious image, the company teamed up with influencers and the National Forest Foundation to launch a social campaign. The campaign is a great example of cause and influencer marketing.
We'll breakdown the campaign and showcase smart marketing decisions that everyone can learn from.
Cause-marketing component
For every Instagram post that promoted Boxed Water with the hashtag #ReTree, the company promised to plant two trees in national forests.
"The Retree Project puts consumers and fans in the driver's seat and allows them to make a real environmental impact by taking a small everyday action – just as consumers are doing by switching from plastic bottles to Boxed Water," says Jeremy Adams, vice president of marketing for Boxed Water.
The company makes a sound connection between its overall mission and its commitment to the environment.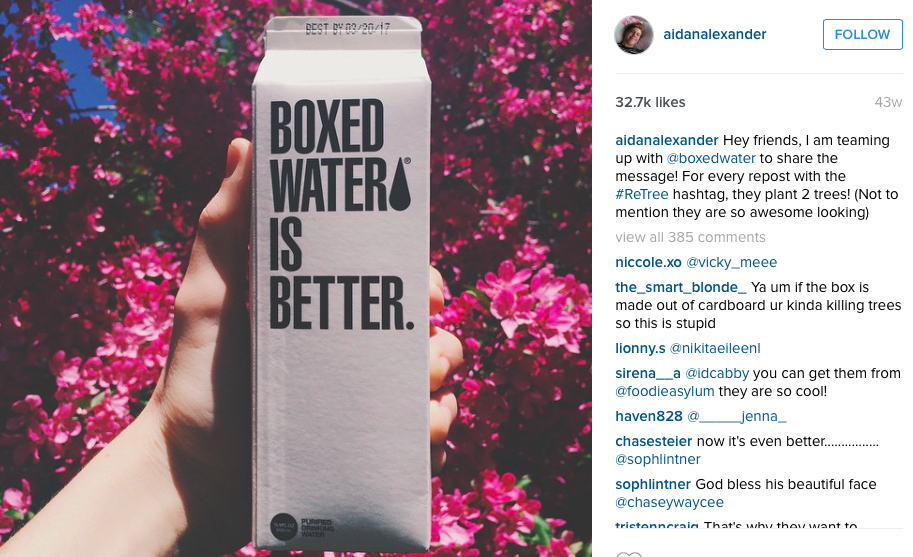 Influencer marketing component
Throughout the three-month campaign, Boxed Water partnered with social influencers to spread the word.
One of the influencers, actor Aidan Alexander, who has an Instagram following of 636,000, shared the campaign on his site. In the photo's description, he encourages his followers to get involved by reposting the picture with the appropriate hashtag.
Several other influencers, actress Jaime King and YouTube star Megan De Angelis, ran similar promotions as Alexander.
By teaming up with these popular stars to promote the cause, Boxed Water increased its reach tenfold. The brand's own Instagram page only has 53,000 followers, which is fairly small compared to massive followings of the influencers.
In the end, 73,630 trees were planted as a result of the campaign.
Takeaways from the campaign
What can marketers learn from this campaign? Here are a few takeaways:
This campaign marries cause and influencer marketing. Combining multiple marketing strategies makes for a strong campaign; so don't limit your plans.
Find influencers in the right demographic
Aside from finding influencers that are aligned with your brand's mission, you should also look for influencers within your audience's demographic. Boxed Water teamed up with a younger demographic, which corresponds to its core market. Remember whom you're marketing to.
Cause marketing is hot right now. Ninety percent of American consumers say they would switch brands to one associated with a cause, given comparable price and quality. Cause marketing can help a charity, and improve your overall image and reputation. Win-win.
Influencers may work for free
In many influencer campaigns, there is compensation offered, but if you're promoting a cause, there's a chance you can get a little social love for free. Talk with influencers about the cause and see what kind of agreement you can reach.
Give the campaign some time to work
Boxed Water ran this campaign for three months. Rather than run a one-week campaign that's over in a blink, focus on the long game. A longer campaign can draw more attention, and keep your brand top of mind.