A childhood favorite from the 1950s is taking a modern approach to social media. Play-Doh, everyone's favorite molding clay, is generating a lot of buzz for its creative and engaging posts that capitalize on current events.
How Play-Doh uses newsjacking to promote its brand
In marketing it's called newsjacking, which is defined as "the art and science of injecting your ideas into a breaking news story or current event so you and your ideas get noticed."
Any brand can do it, but Play-Doh is doing it well, says Kari DePhillips, a content marketing expert.
"This gives people twice the reason to interact with your social posts: because they like your brand or because they see something that's going on in the moment," she explains. "In a way, this doubles your shot at engagement because people who may not have otherwise interacted are going to toss you a retweet or share your post."
Examples of 'newsjacked' posts
Play-Doh uses current events that everyone is taking about as inspiration for social posts. For example, when the second Royal Baby arrived the brand posted this: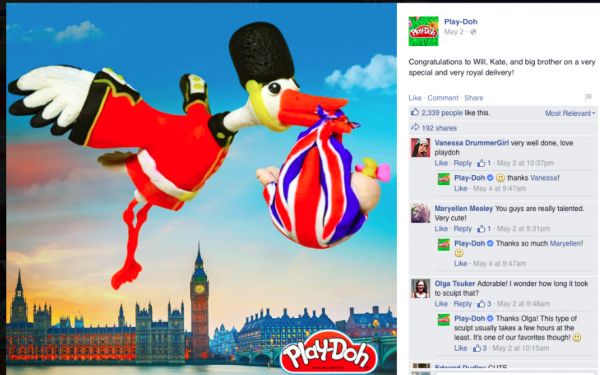 The post not only capitalized on the Royal Baby buzz, but it also showcased how creative Play-Doh users can be.
Remember when Katy Perry performed at the Super bowl? The performance generated a lot of talk about a rogue dancer in a shark costume. The Left Shark seemed lost during the routine, making him (her?) an internet sensation. Well, Play-Doh used the chatter to create and post this: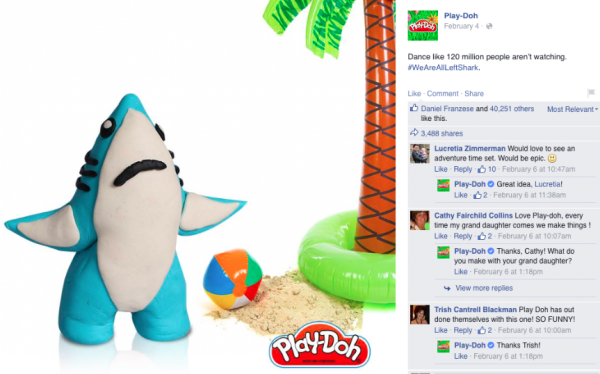 And last but not least, Play-Doh played on the dress saga of 2015. A picture of a dress showed up on social media that asked people whether it was white and gold or blue and black, and for some reason this colorful question was the talk of the social town. Even CNN did a story about it, "A Scientific Tale of Two Dresses."
Again, Play-Doh joined the conversation with this post: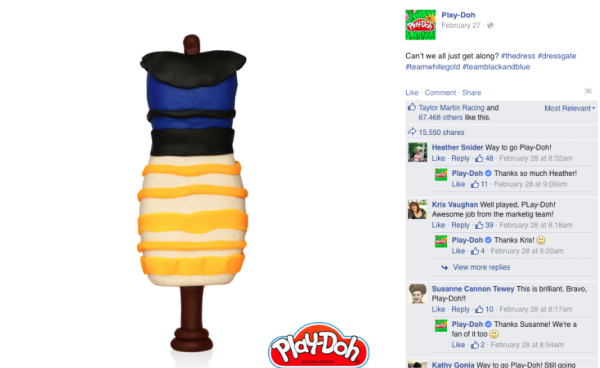 How did these posts do? The post about the dress debate garnered five million impressions, and the Left Shark post received over one million impressions.
What you can learn from Play-Doh
Play-Doh's play on current events is something every brand can do, DePhillips says.
For starters, always be on the look out for opportunities to turn something that's buzz-worthy into an engaging post that brings your brand into the conversation.
However, there is one main ground rule. "Keep it classy," DePhillips says. "You don't want to jump in on a trending hashtag or an event if it'll seem like you're trying to profit from something negative or something that's causing harm to others."
As long as you keep your posts appropriate, and do a little research before taking a post live, it's okay to experiment, she says. Have a little fun.
It's a solid strategy to bring in extra traffic. That doesn't mean you'll have viral posts every time you talk about something from the news, DePhillips says, but it's a great growth strategy to add to your social marketing plan.