Instagram has been making moves to better compete with TikTok to provide the ultimate content creation experience. From experienced videographers to content creation newbies, Instagram users can now use the new tools available to create Reels. Here's a list of the new Reels editing features and how to use them.
New Reels editing features to try
Instagram stickers
The most popular Instagram Stories stickers can now be added to Reels. That includes polls, quizzes, gifs, emoji slider stickers, and a few others, which have all proved useful for boosting engagement.  

Audio updates
Creators can now upload their own sounds on both platforms. Users can also record voice-overs on Reels or use text-to-speech narration and Sound Sync, which matches the video's timing to the beat of the sound being used. There are also sound effects that can be placed on a reel to increase the comedic or dramatic effect.  
90-Second Instagram Reels
Instagram has extended the maximum time of reels from 60 seconds to 90 seconds. This comes as TikTok has recently extended video time to 10 minutes.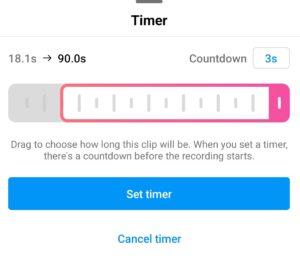 Facebook desktop tools
The Creator Studio enables desktop users to be able to create, edit, and publish Facebook Reels. In the past, only iOS and Android users had access to the Reels feature. The video clipping tool is a part of the new editing features, and makes it easy to generate clips from long-form videos that have already been posted, which can then be converted into Facebook Reels. Meta has also launched tools that allow live streamers, specifically gamers, to create Reels, up to 60 seconds, directly from their streams. The company has additionally released the dual view feature, that can display gameplay and creator cam, simultaneously. There's even the option to schedule a Reel.
Templates
Meta has developed the Templates feature on Instagram, which lets users create Reels using the same layout as one made by a different creator. Instagram also has default templates available.
Market reach
Meta is increasing the likelihood of reaching a broader audience by making Reels visible on Feed, Watch, and Group, globally. Creators can also recommend their Instagram Reels on Facebook for even more views and engagement. 
Reels have gradually become the preferred method for consuming content online and have great potential for expanding social visibility. Using them will allow influencers and brands to maximize their audience appeal.