Companies that take on content marketing often struggle with a common question: "What should we write about?"
Most businesses start their content marketing with blog posts about the company, its products and some helpful "tips and tricks" articles. There's nothing wrong with this content; after all, a recent study shows the lifespan of a blog post is about two years. That means content gets some mileage.
But when a company is ready to ramp up its content, they can turn to examples like those created by Microsoft.
The tech giant is known for creating computer programs and tablets, but it's making a name for itself in the content marketing world, too. The company created Microsoft Stories, a full website dedicated to profile and feature pieces that showcase the company, its employees and products in a way that few others are doing.
Let's take a look at what makes this content standout:
Real storytelling
A staple of Microsoft Stories is storytelling. Journalists interview employees, conduct research and create pieces that are fit for a book of short stories.
A profile piece on an up-and-coming computer whiz, Vidya Srinivasan, for example, is a 1500+ word piece that not only talks about her job at Microsoft but also about her family life and hobbies. Her coworkers add colorful anecdotes to the story, and crisp pictures of Srinivasan add to the visual appeal of the piece.
Stunning visuals and layout
Every story has a great layout and visuals to go with it. These aren't your run-of-the-mill blog posts that have a stock photo as cover art, a few subheadings and a list of "suggested articles" floating at the bottom.
These articles have professional photos, graphics, quotes that are pulled out of the story and displayed, and organization that's appealing to those who just scroll through the article.
Take a look at this cool image from a post that features John Drengenberg, a consumer safety director, who is testing waterproof products in the "water room."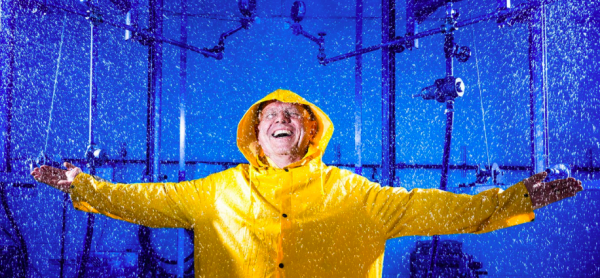 And here's one of the quotes from Drengenberg that's pulled out of the article and displayed as its own graphic.

Subtle connections to Microsoft
The pieces on Microsoft Stories focus on people first, not the company or a product. It's an important distinction.
For instance, when National Geographic asked photographer Stephen Alvarez to take pictures of the Seven Wonders of the World using Microsoft's Lumia smartphone, the company could have written an article that bragged about the project and touted the features of its phone. Instead, the article focuses on the photographer, his journey and the photos he was able to capture.
It's a great lesson in subtly; not every piece of content has to scream, "Look at how great we are."
Wrap up
It's clear that Microsoft invests a lot of time and effort into its content marketing strategy. While some businesses may not feel as though they can compete with the resources of such a large company, there are takeaways that every company – no matter its size – can glean from Microsoft Stories.