Are you up-to-date on Facebook's new features? Considering the company rolls out new features at a dizzying pace, we understand if you're a little behind. To catch you up to speed on several new marketing features that can help your business, we've created a list of new Facebook tools that you should check out.
1. Featured videos
Skill level: Beginner
In an effort to cut into YouTube's audience, Facebook is putting more emphasis on video sharing. The social media giant now allows businesses to feature a video. The video lives on your video page, which has a sharp new look. McDonald's has embraced the new feature. Here's how the featured video looks: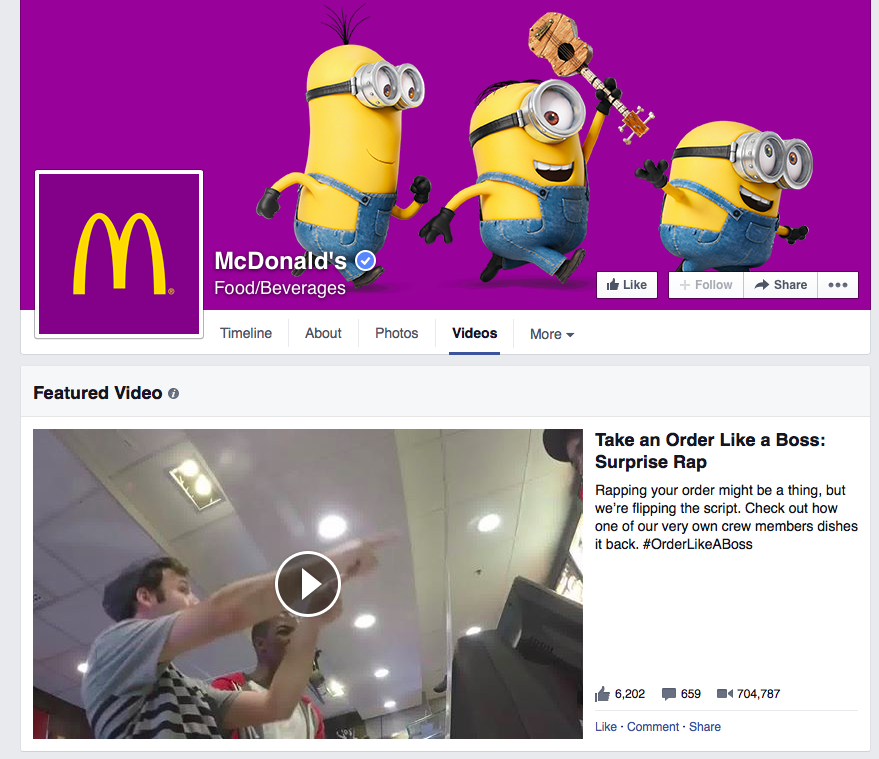 The featured video also appears on your timeline right under the 'About' tab on the left side of your stream. Want more good news? Setting up a featured video is easy to do. Of course, you have to take the time to create a good video first, but featuring the video is a snap. Facebook explains how to set it up in three steps.
2. Dynamic Ads
Skill level: Advanced
When a customer shops your site for a new product, wouldn't it be great if you could remind them about the product later on? Well, now you can. When a customer browses your website for a specific product, that same product will show up in their Facebook feed if you create a Dynamic Ad.
You can't go wrong with this feature. It's customer-specific adverting at its best. When it comes to sales, sometimes customers just need an extra nudge. Dynamic Ads do just that. They get your products in front of people that are actually interested in them.
Here's an example of a Dynamic Ad: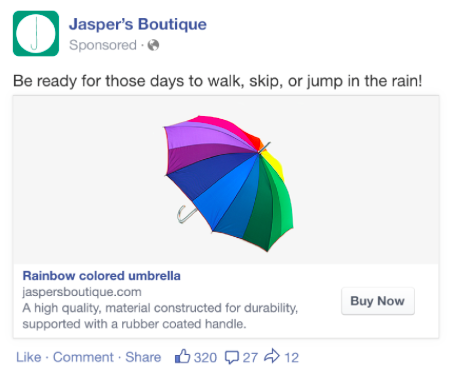 Setting up this feature will take some time. You have to upload a product catalog to Facebook, make some changes to your website and create the ads. The templates that you use look great on any device, so you don't have to worry about making separate ads for smartphones or laptops.
If you have created ads through Facebook before, that experience will help. If you're new to the game, expect a learning curve. However, once you have everything set up, changing products and updating your ads is simple.
If you're ready to dive in, check out these instructions on Facebook to get started.
3. Businesses on Messenger
Skill level: Intermediate
Facebook is making it easier to connect with customers on a personal level through Messenger. If you aren't familiar with Messenger, it's the feature that allows you to send private messages to friends. Now, businesses can use it to talk directly to customers.
During the checkout process, a customer can sign up for this feature, which allows you to send information to them through Messenger. You can send updates that you would typically send through email, like purchase confirmations and shipping information. It isn't just text-based messages either. You have the option of creating a pictured-based message like this one from Zulily that confirms an order: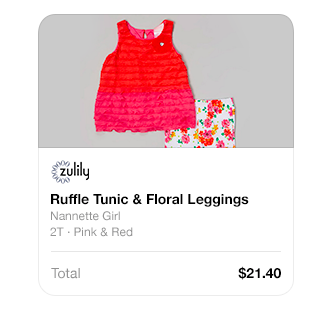 This feature even allows you to offer customer support by exchanging information through Messenger.
It's still in the beginning phases, so if you're interested in using this new feature you have to sign up with Facebook to gain access.
Facebook is making it easier for businesses to generate revenue through its platform. It's not just for posting content or pretty pictures anymore, the marketing capabilities on Facebook are growing and small businesses can reap the rewards.