Sponsored Videos See 20% Year Over Year Growth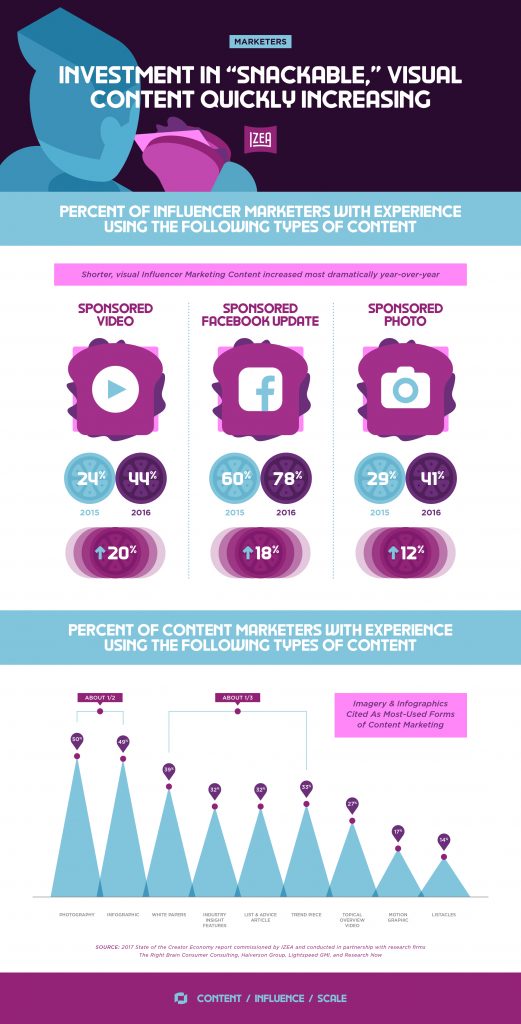 ORLANDO, FL (May 23, 2017) – IZEA, Inc. (NASDAQ: IZEA), operator of IZEAx, the premier online marketplace connecting brands and publishers with influential content creators, found in its annual State of the Creator Economy report greater year-over-year growth in marketers investing in visually-driven content than any other type of approach.
Although sponsored Facebook updates remain Influencer Marketers' preferred tactic, with 78% reporting leveraging it in the last year, the usage of sponsored videos saw a larger year-over-year jump of 20%. In addition, use of sponsored blog posts increased by 16% and sponsored photos jumped by 12%
This trend toward "snackable," shareable visual content correlated with Content Marketers sampled in the study as well:
One-half of content marketers indicated imagery and infographics are their most commonly-utilized approaches.
Only one-third indicated white papers, lists and advice articles were their top form of content.
For the complete 2017 "State of the Creator Economy Report," visit https://izea.com/resources/the-2017-state-of-the-creator-economy/