Ever dream of leaving your work worries behind to travel in search of adventure? There are plenty of online influencers who have made successful careers doing exactly that, and sharing their stories on Instagram. If you're one of the 500 million people checking Instagram daily, whether you're in search of inspiration for your next vacation destination or a partner for a new content marketing campaign, these 25 Instagram travel bloggers should be the first stop on your journey of discovery.
25 Instagram Travel Bloggers to Follow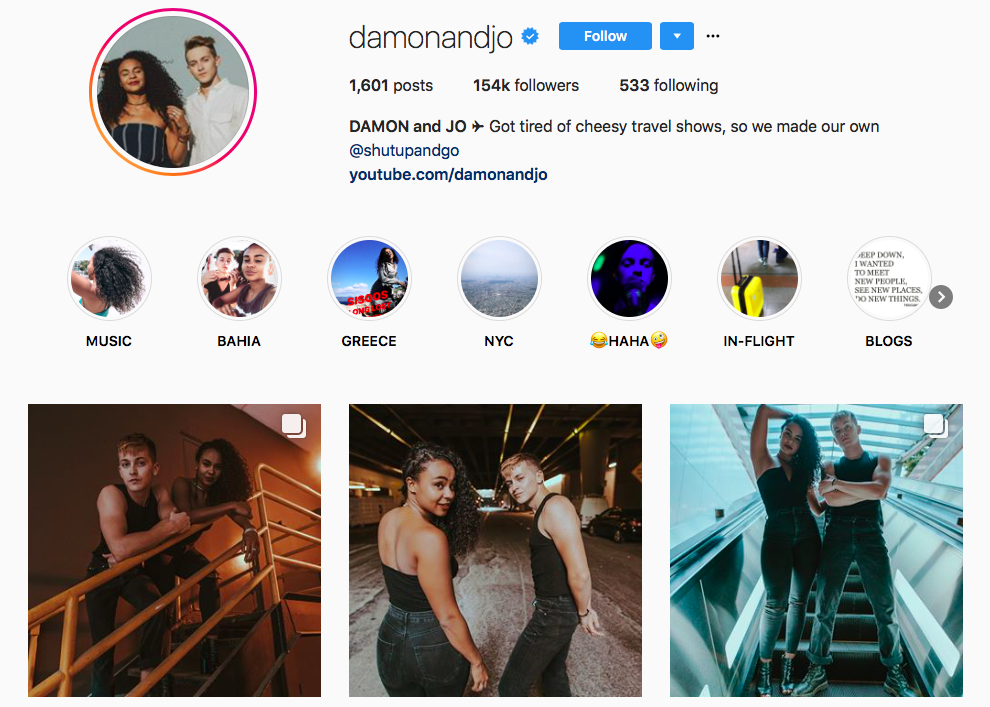 @damonandjo
Damon and Jo tour the globe, looking for adventure and documenting their travels on social media. In their own words, they "got tired of cheesy travel shows," and made their own. The Instagram travel bloggers try to capture the fun of experiencing new places and cultures, so expect lots of selfies in bustling locations. The format has gained them an audience in excess of 154,000 followers.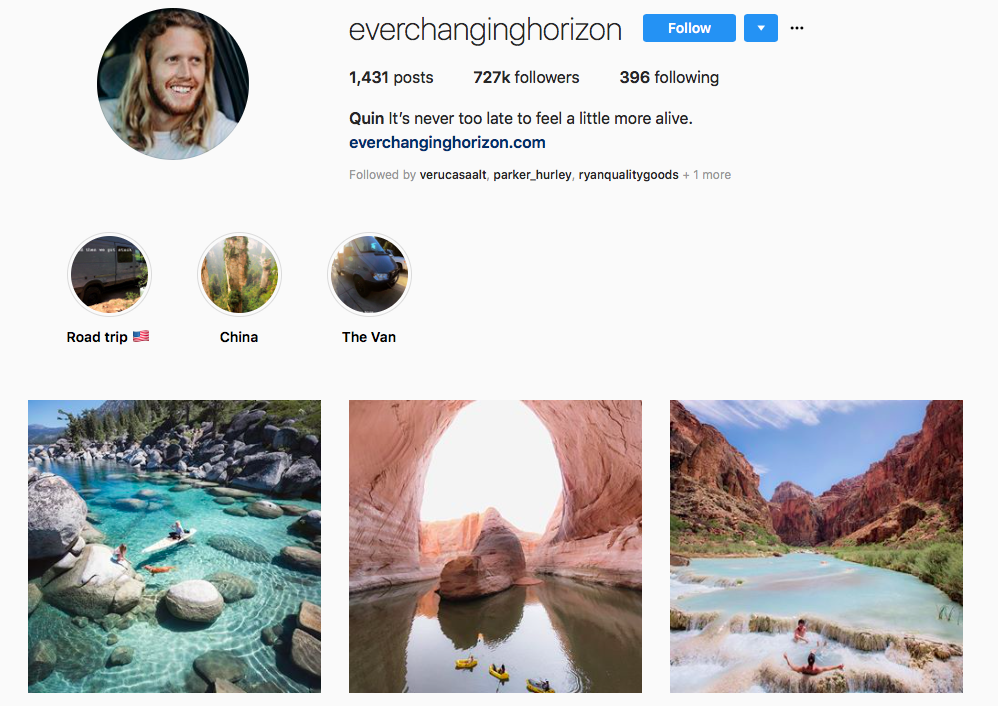 @everchanginghorizon
Many Instagram travel bloggers are inspirational, and seek to encourage others to take that first fateful step on a voyage of discovery. Quin lives by the motto "it's never too late to feel a little more alive." An audience of 723,000 followers clearly agrees.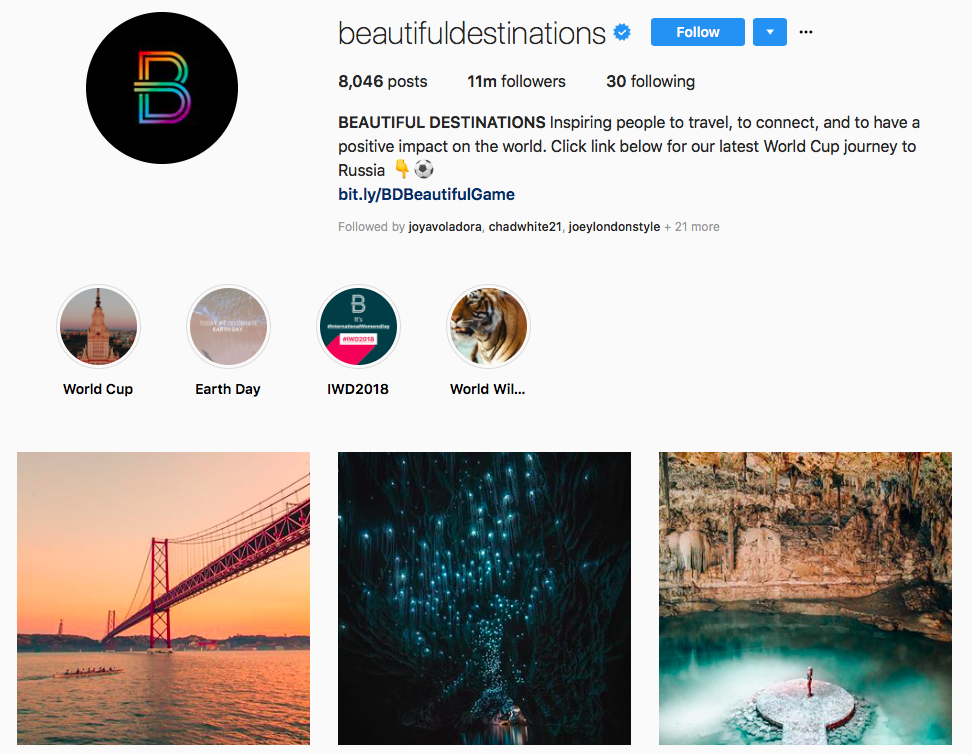 @beautifuldestinations
While some Instagram travel bloggers showcase their own personalities as much as the locations they visit, others let the destinations speak for themselves. The Beautiful Destinations Instagram is a community hub for photographs depicting larger-than-life locations, stunning aerial shots, and epic vistas. With such incredible photography on display, it's no wonder the account has an audience of 11 million.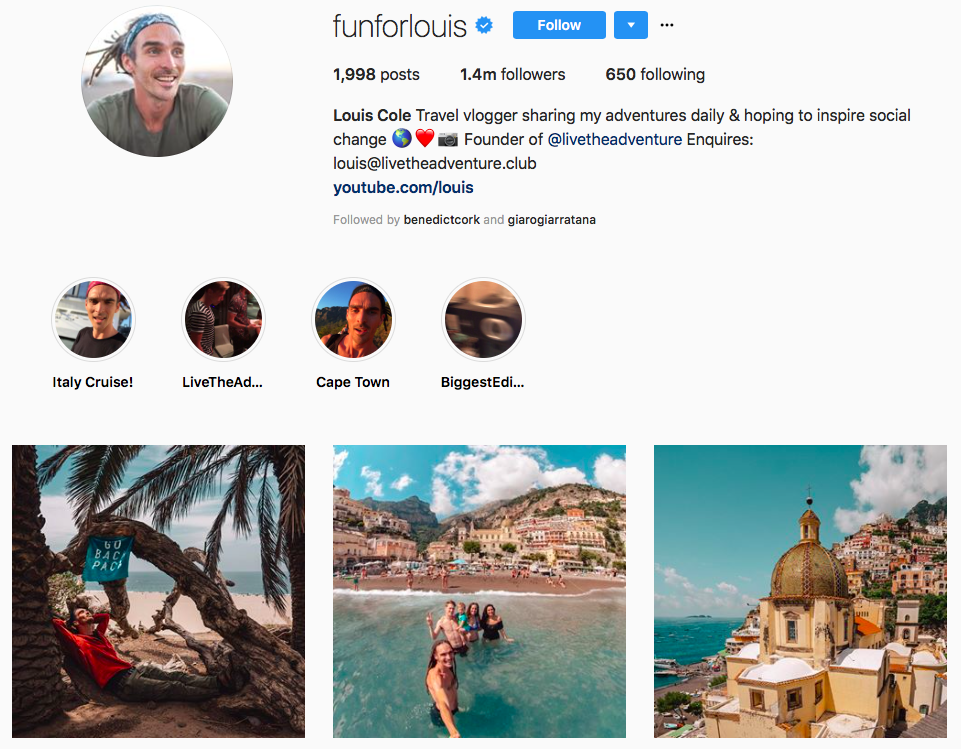 @funforlouis
Louis Cole is an Instagram travel vlogger with over two million subscribers on YouTube. He's almost as successful on Instragram, where 1.4 million followers enjoy photographs showing the fun and adventurous side of international travel.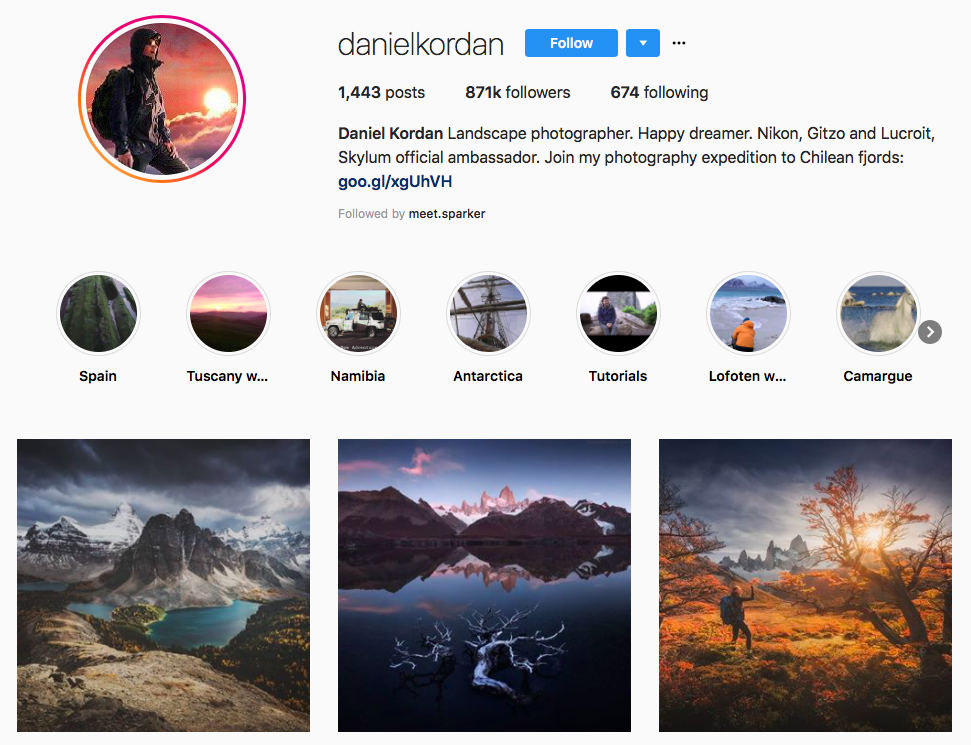 @danielkordan
Daniel Kordan is an Instagram travel blogger and landscape photographer with a knack for capturing the dreamlike beauty of the natural world through the changing colors of the sky, reflections in glass-like lakes, and the ethereal movement of clouds and mist. He's an official ambassador for top brands such as Nikon, and has over 870,000 followers.
@thepointsguy
Brian Kelly made a name for himself by using air miles to travel all over the world for bargain prices, eventually founding The Points Guy media platform and gaining recognition as one of the top travel influencers. The Instagram travel blogger boasts 58,400 followers.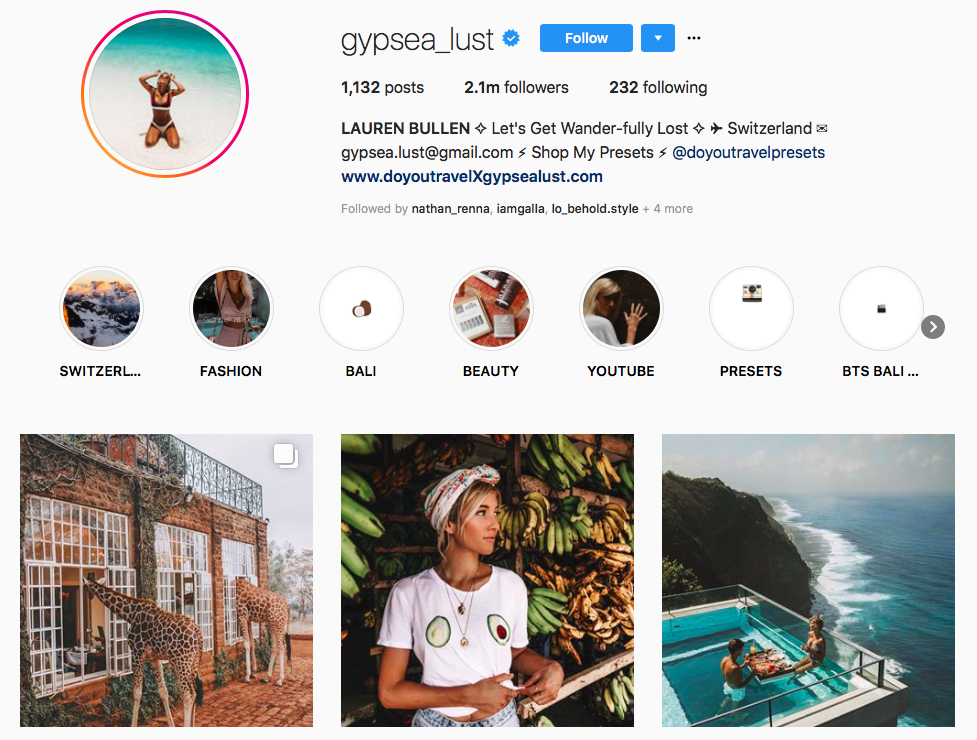 @gypsea-lust
Lauren Bullen's tagline of "let's get wander-fully lost" may be a little corny, but 2.1 million followers are happy to lose themselves in her stunning travel photographs. Many of the Instagram travel blogger's posts highlight the romanticism of losing yourself in nature.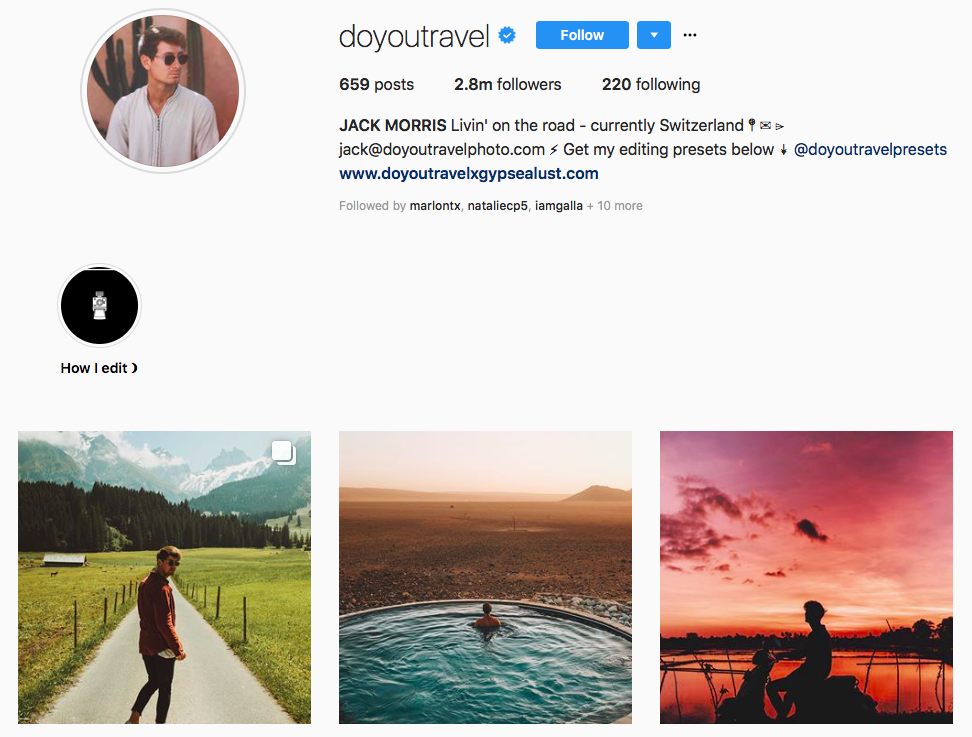 @doyoutravel
A lot of Lauren Bullen's work features her partner, Jack Morris, who has his own Instagram account as well. After following Lauren, join this Instagram travel blogger's audience of 2.8 million followers to enjoy both sides of every story.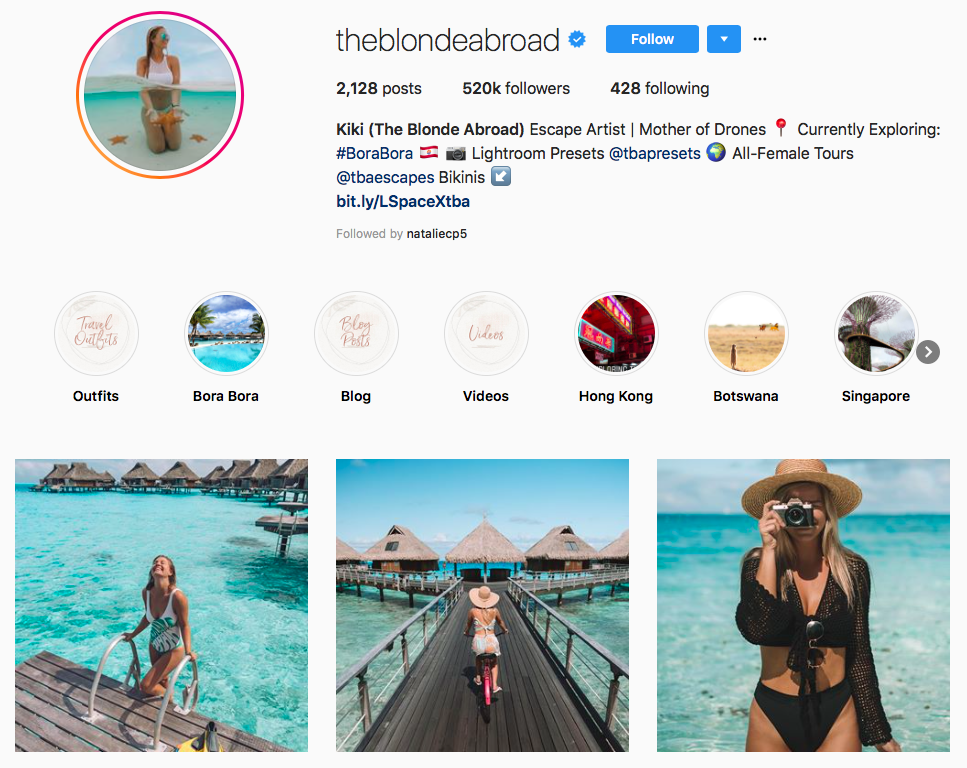 @theblondeabroad
When it comes to @theblondeabroad, you get exactly what you expect. Kiki is the blonde in question, and she shares her travels with 517,000 followers. The Instagram travel blogger is part of a much larger social media empire, which includes an award-winning travel and lifestyle blog.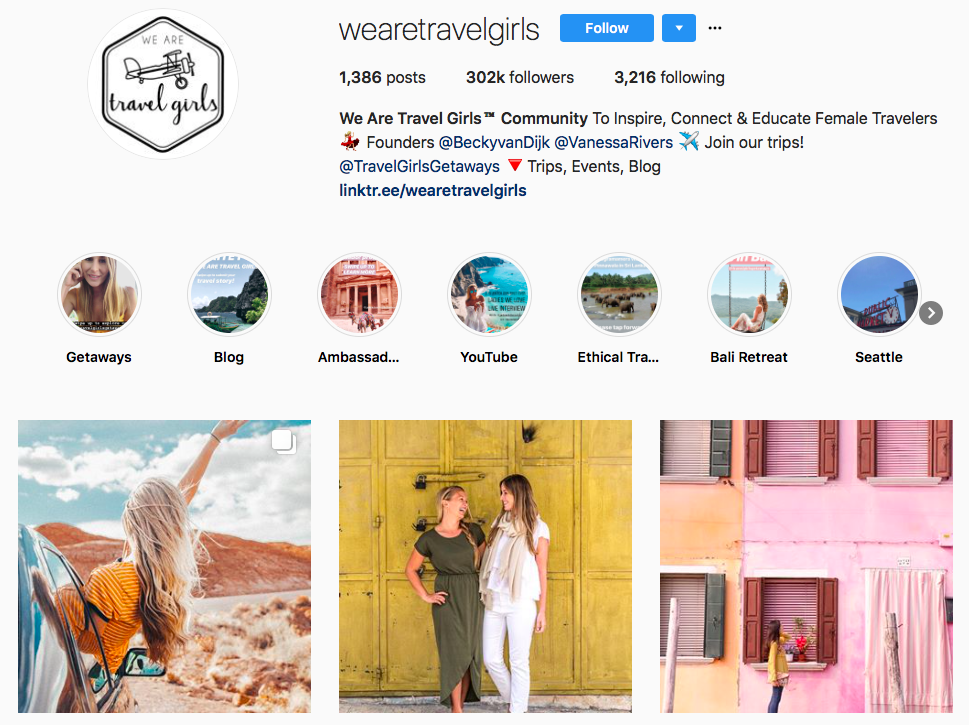 @wearetravelgirls
This Instagram community inspires, celebrates, and educates female travelers. It's the brainchild of Becky van Dijk and Vanessa Rivers, who both have their own personal Instagram accounts as well. Following a community of Instagram travel bloggers rather than an individual means you get to see a much wider range of locations and photographic styles.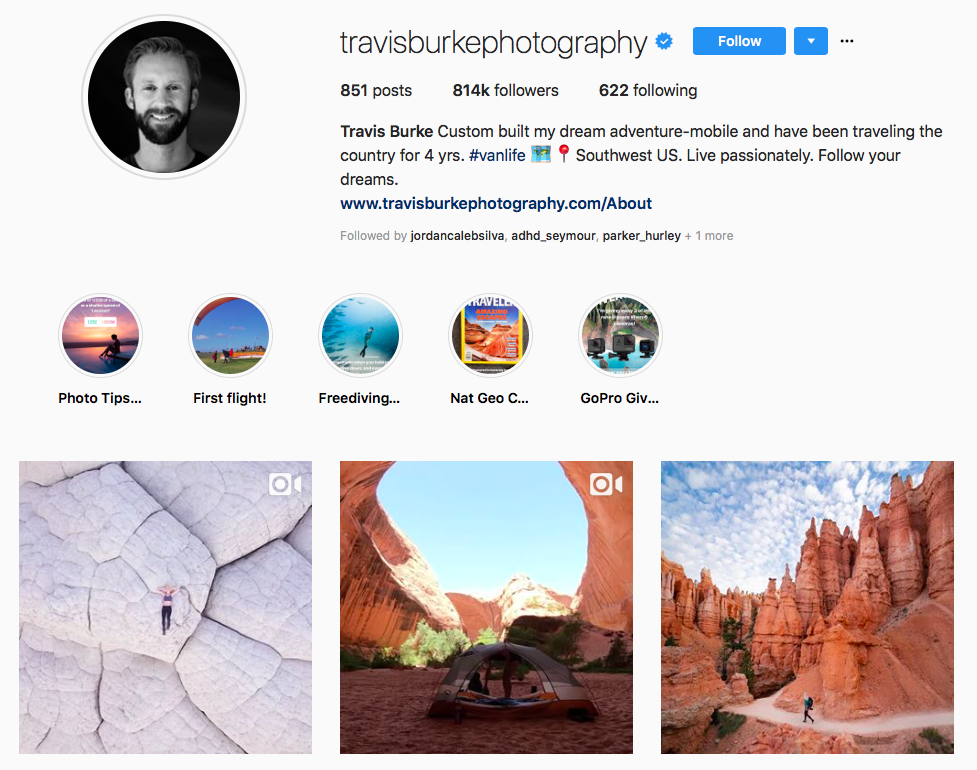 @travisburkephotography
Many people dream of living life on the open road, but Travis Burke is actually doing it. After building his own "adventure-mobile," the Instagram travel blogger started traveling the country and documenting the sights for his 813,000 followers.
@chelseakauai
Chelsea Kauai thrills her 576,000 followers with dramatic action shots as she climbs mountains, swims in crystal-clear water, or perches on the edge of cliffs. While the Instagram travel blogger is featured in most of her photographs, it's always the locations that are the real stars.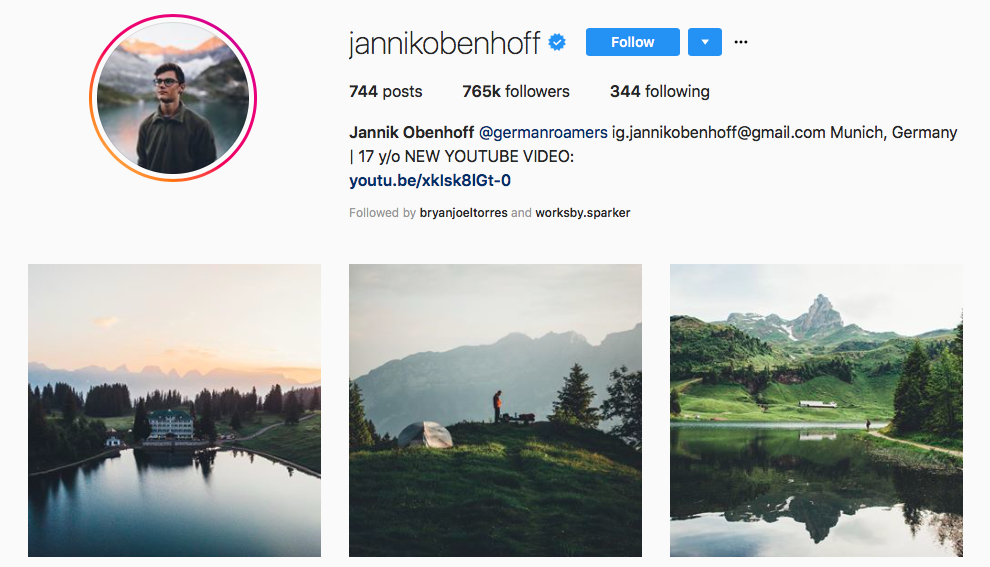 @jannikobenhoff
Some influencers focus on people, and others focus on places. Jannik Obenhoff Instagram is definitely the latter. This 17-year-old says he's "just a boy with a camera", but his 765k followers see more than just that.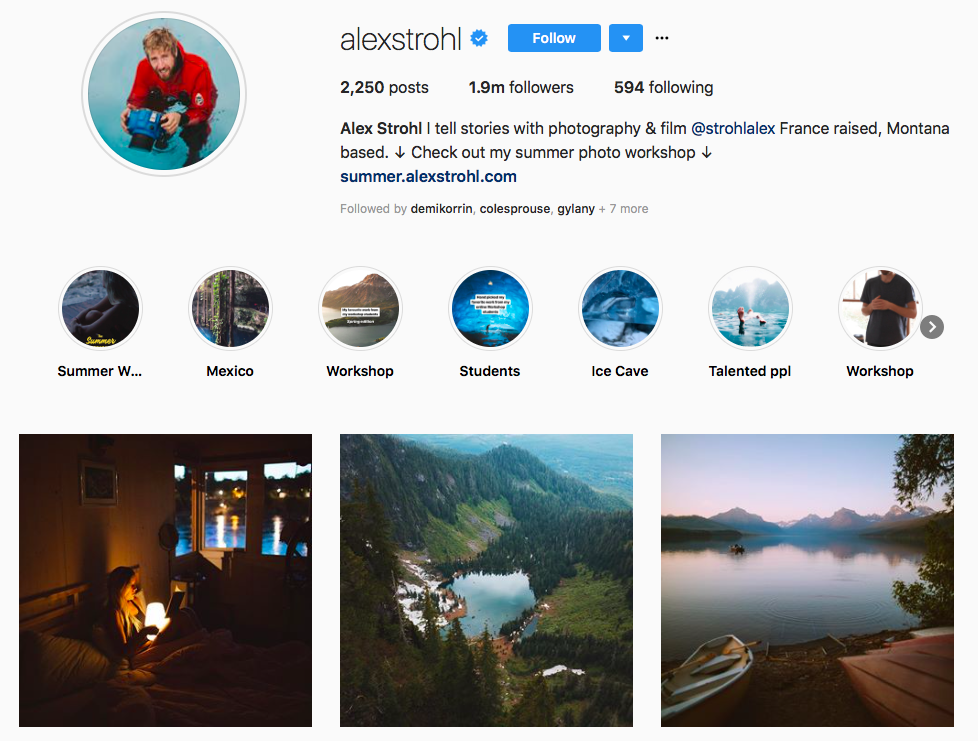 @alexstrohl
Alex Strohl spends his time strolling through some of the most beautiful locations in the world. He's a visual storyteller with an eye for capturing intimate details in landscapes. He has 1.9 million followers.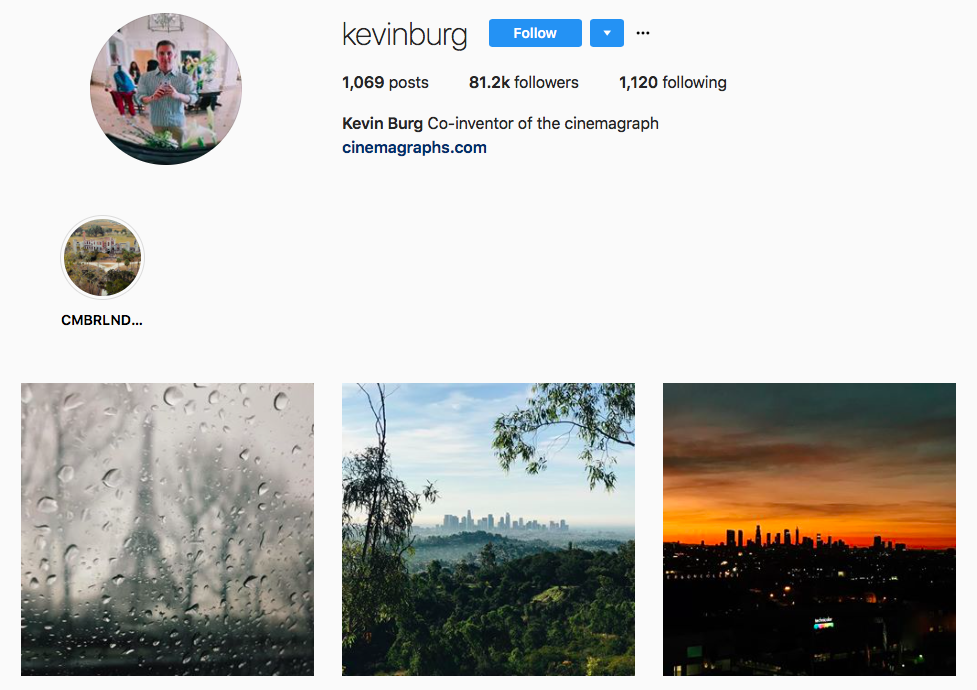 @kevinburg
Kevin Burg is the co-inventor of the cinemagraph, a combination of static images and video that creates the illusion of a "living photograph." He has over 81,000 followers on his Instagram account, where he shares everything from portraits to bustling cityscapes.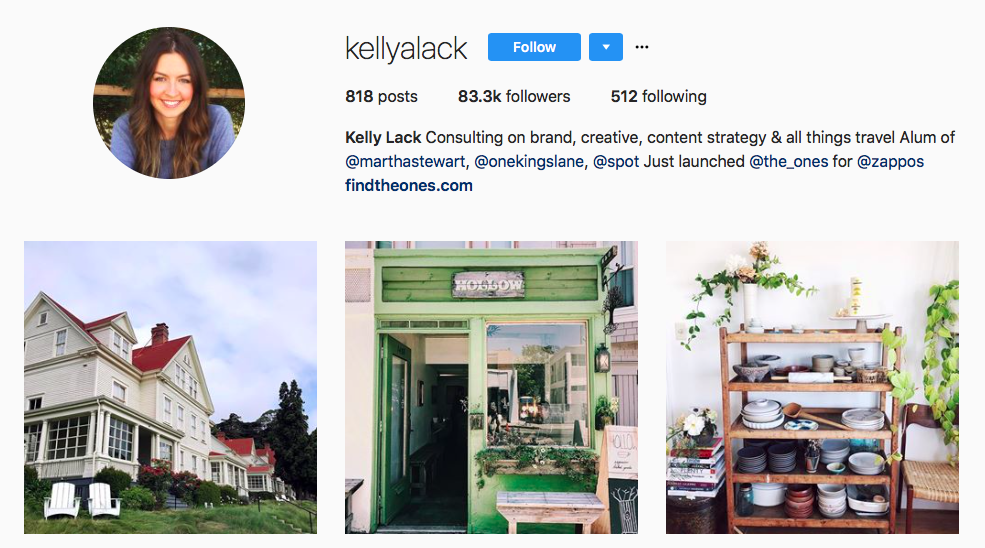 @kellyalack
Kelly Lack has worked as a brand consultant and content strategist for brands such as Martha Stewart. On her Instagram account, she shares beautiful interiors and exteriors from around the world for her 83,300 followers.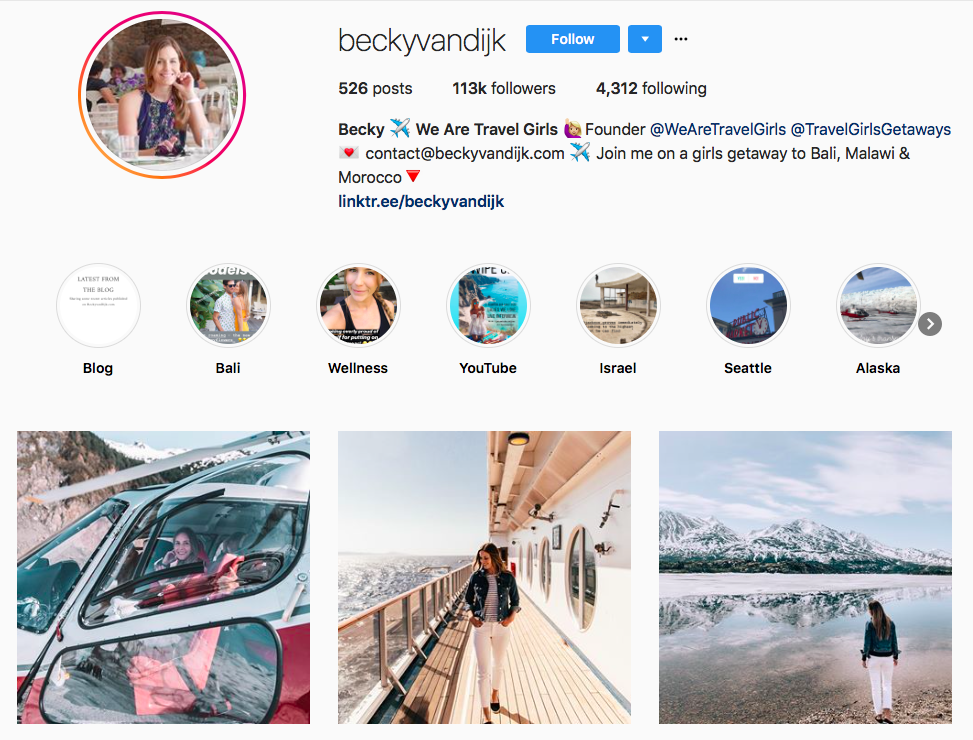 @beckyvandijk
As one half of the creative duo behind @wearetravelgirls, Becky van Dijk always has something new and exciting to share with her 113,000 followers. Her adventures serve as inspiration for like-minded travelers.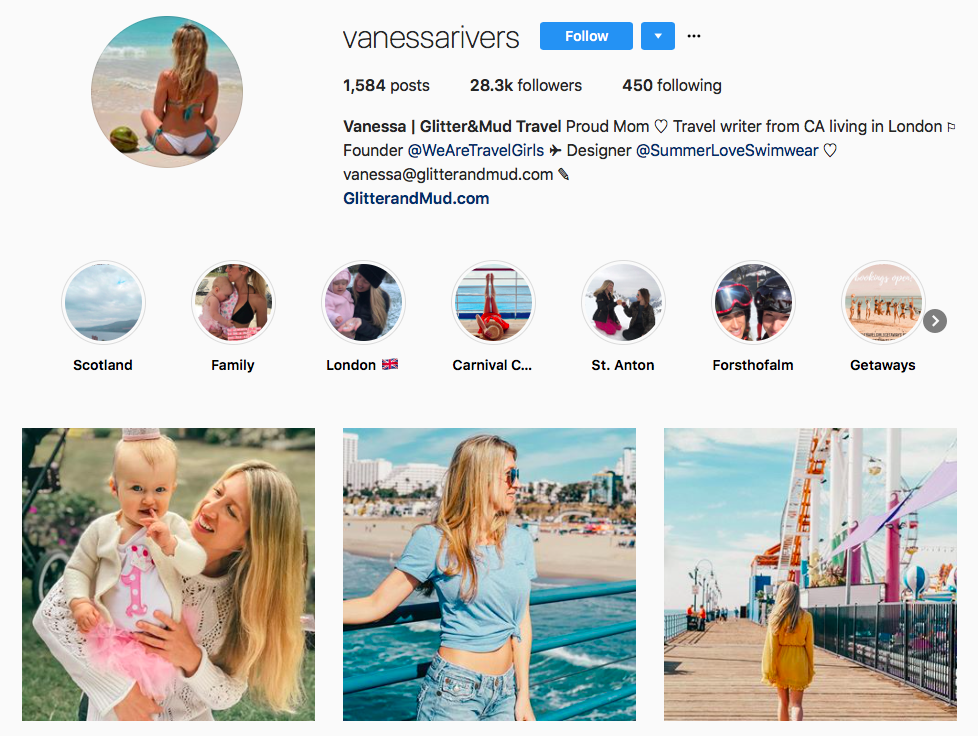 @vanessarivers
As a mom, travel writer, fashion designer, and co-founder of @wearetravelgirls, Vanessa Rivers likes to keep busy. Her photographs from around the world are the perfect antidote to a rainy day at home for her 28,300 followers.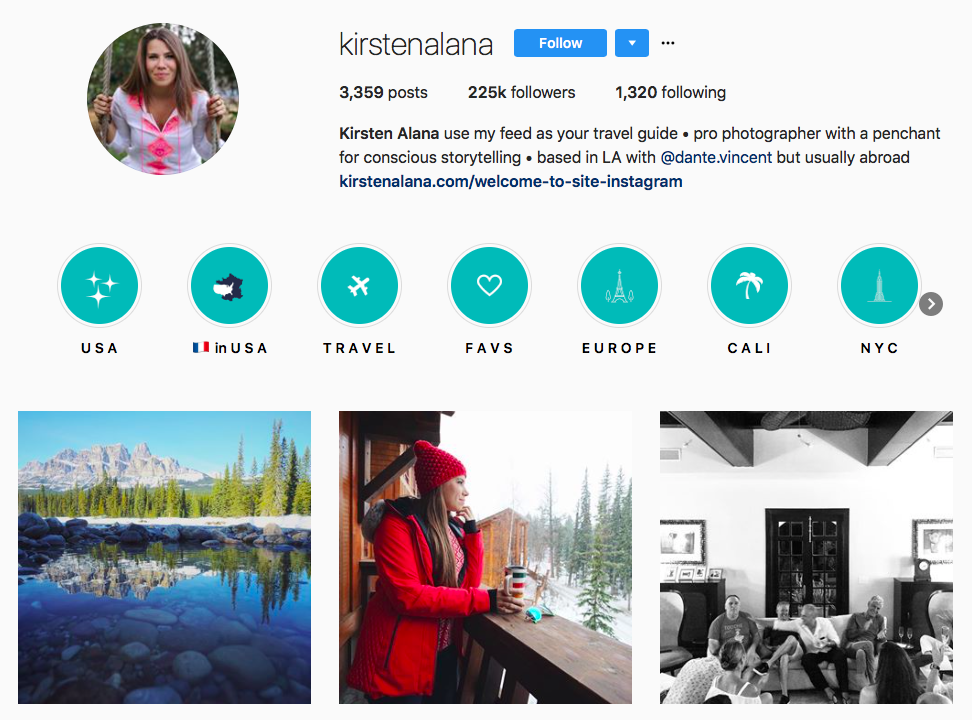 @kirstenalana
Kirsten Alana refers to herself as a "pro photographer with a penchant for conscious storytelling." What does that mean? It means you get fascinating images accompanied by equally fascinating glimpses into Kirsten's thought processes.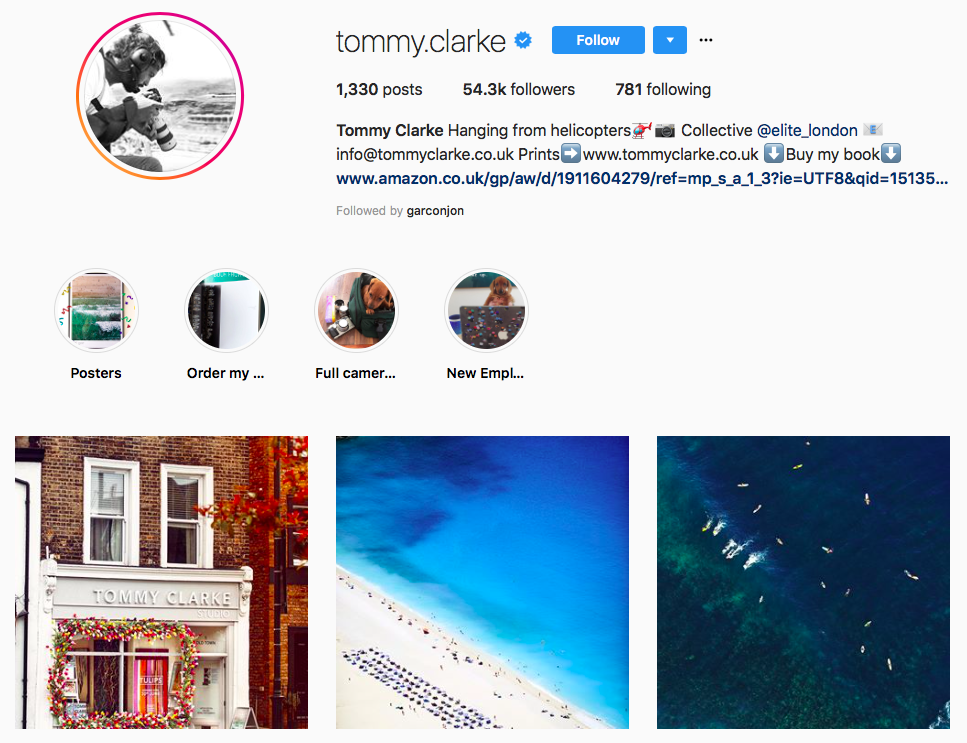 @tommy.clarke
Get a different perspective on international travel by following Tommy Clarke. This aerial photographer spends his time hanging out of helicopters to capture views from unique angles for his 54,200 followers.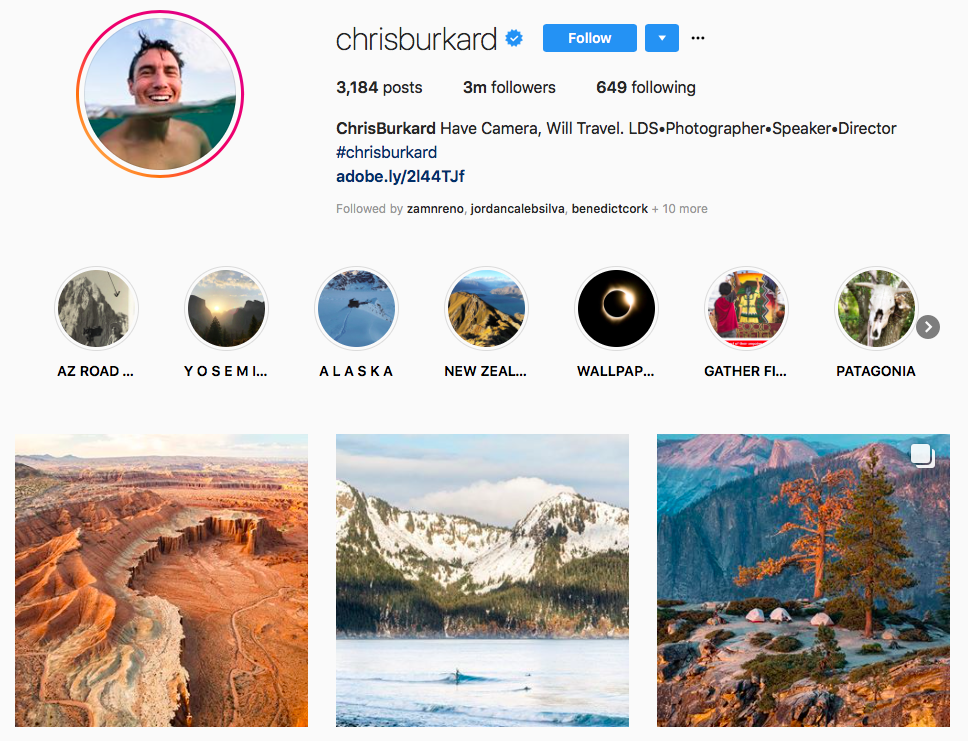 @chrisburkard
Some travel influencers show the wonders of relaxing on beaches, or kicking back in first class, but Chris Burkard is on a quest for pulse-pounding adventure. His shots combine beautiful locations with adventurous activities such as surfing and rock climbing. He has a staggering three million followers.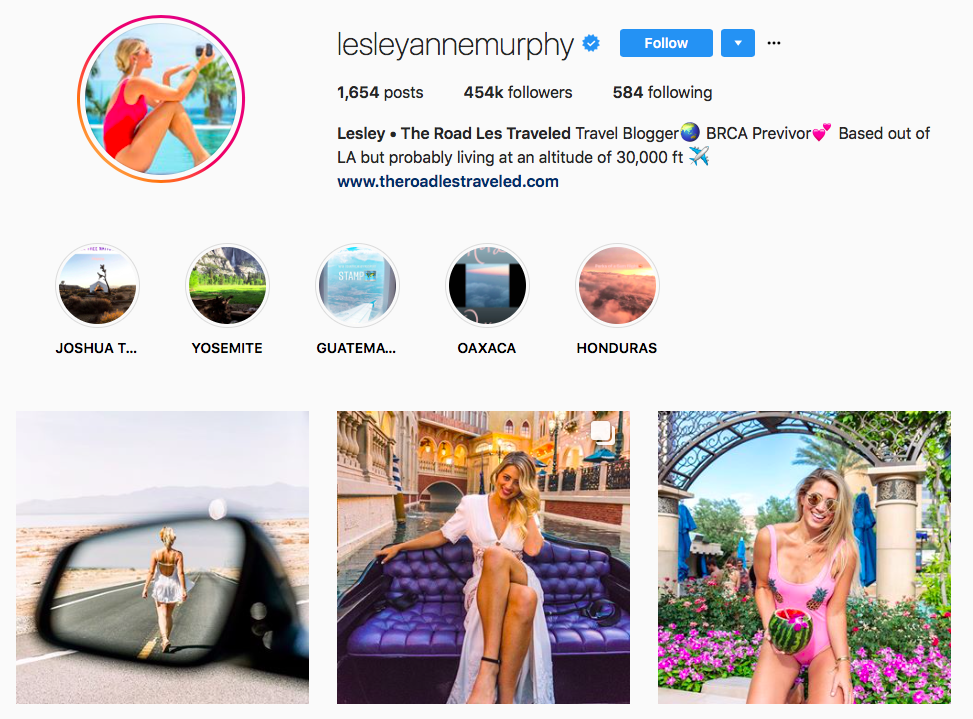 @lesleyannemurphy
She may be LA-based, but she claims she's "living at an altitude of 30,000 ft." Working under the witty handle "The Road Les Traveled," Lesley posts regularly for her 455,000 followers.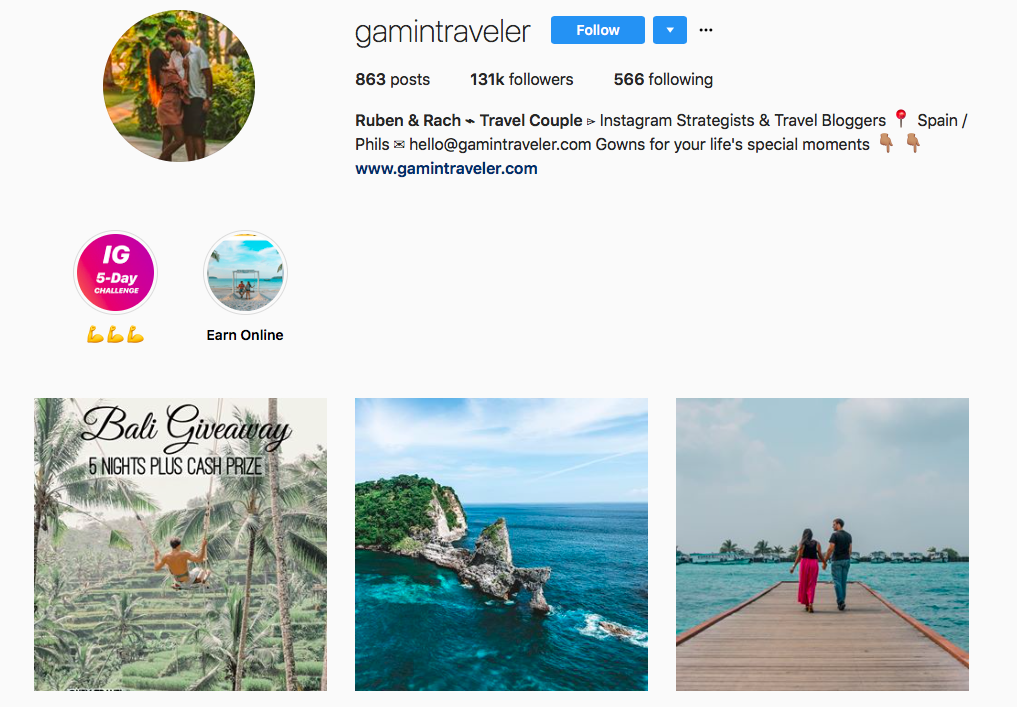 @gamintraveler
Ruben and Rach are Instagram strategists and Instagram travel bloggers with a passion for luxury travel. They have 129,000 followers.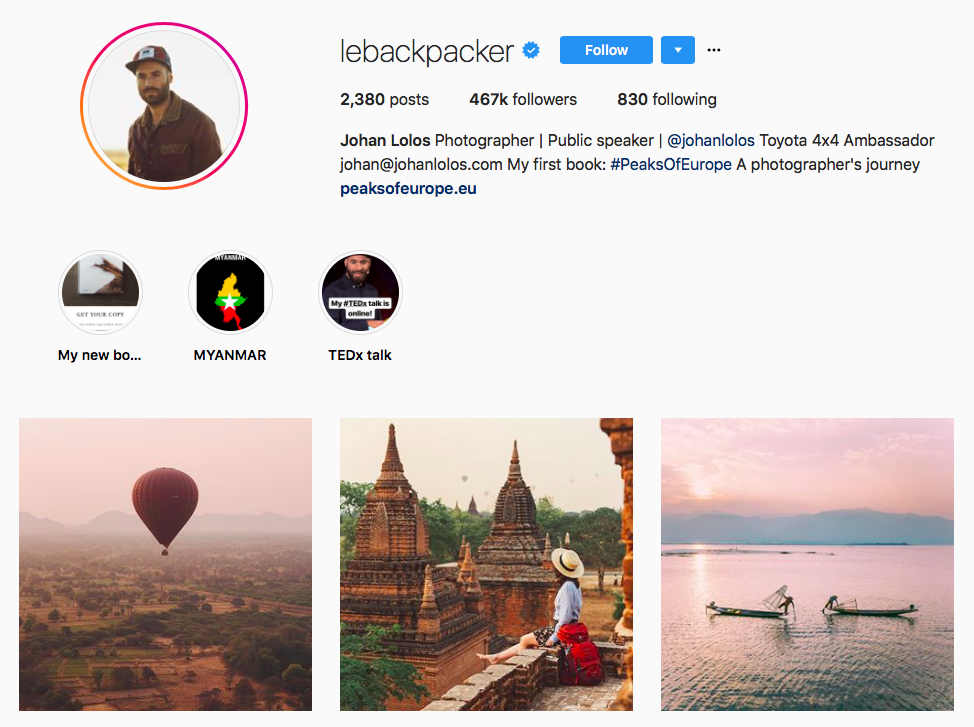 @lebackpacker
Johan Lolos packs his feed with jaw-dropping landscapes. His talent with a camera (not to mention his adventurous lifestyle) has earned him 467,000 followers and the role of ambassador for Toyota 4×4.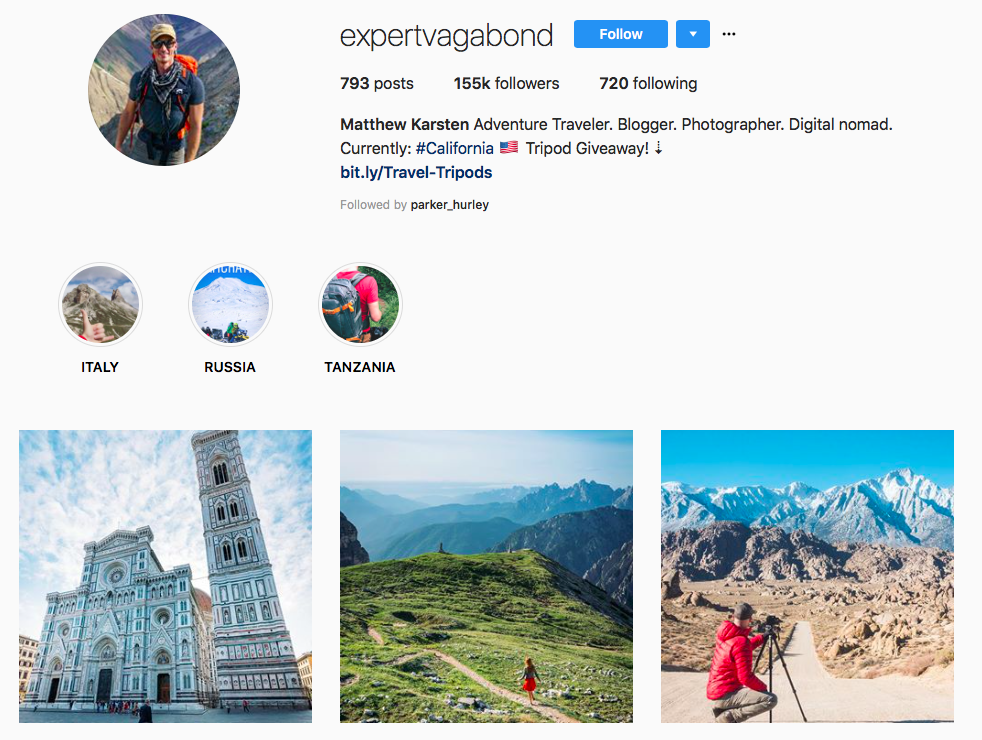 @expertvagabond
Matthew Karsten quit his job in 2010 to travel the world. He's developed a following of over 155,000 people who enjoy his nomadic spirit and breathtaking photography.
Your Journey Starts Here
Instagram is the perfect destination for vacation snaps and beautiful landscapes, as photos on the site generate 36 percent more engagement than videos. Follow some of the most popular travel-related hashtags, such as #travel, #beach, and #sunset, to discover jaw-dropping visuals from Instagram travel bloggers and transform your feed into a virtual tour of dream vacation destinations.