More and more brands are using social sponsorship to market a product or service. This practice, where a brand coordinates with a social influencer to promote something on their digital channels, provides an organic way for businesses to advertise to a niche group.
Sponsored social has quickly gained popularity as an affordable channel to reach a pre-existing audience as consumers become increasingly wary of promotional content. In fact, according to Nielsen, 66% of consumers find online consumer opinions trustworthy­.
A recent report sponsored by IZEA shows sponsored social scores a 7.29 out of 10 in terms of effectiveness, outranked only by content marketing and experiential marketing. Here are some tips for brands looking to expand their reach with social sponsorship: 
Spell out the brand's goals
Somewhere between full creative license and an outright paid advertorial is the ideal social sponsorship medium.
Brands should be prepared to share their goals and priorities with the influencer's promoting their product. Those goals should include:
What is it the brand wants the audience to do? Click on links? Share on social media? Enter a contest? Sign up for emails?
Is there a link to a custom landing page that the influencer should include instead of the general website?
Is there a designated hashtag for the campaign?
What call to action or offer should be included?
Create sharable content
Good content offers value and entertains or informs the reader. Successful campaigns will not only get shared by the influencer, but by the audience members that follow the influencer.
Pampers sponsored parenting bloggers, such as Bump to Baby, and vloggers, such as Channel Mum, to test its wipes and promote this hysterical commercial, which appeared as part of the brand's "Don't fear the mess!" campaign. The video has gone viral, including more than 6.5 million views on YouTube.
Think outside the industry
Sure, beauty bloggers can tout makeup, but out-of-industry approaches can sometimes make for effective social sponsorships.
Buick had great success doing this with its "Pinboard to Dashboard" campaign. Rather than lean on the traditional promoters in the automotive industry, Buick reached out to 10 design, fashion and food bloggers to have them create their own personalized version of 2013 Buick Encore.
Another example is Vans, which used social sponsorship to promote its footwear on sites like West Coast Mama, and in non-fashion media where skateboarding, surfboarding and the X Games are prominent.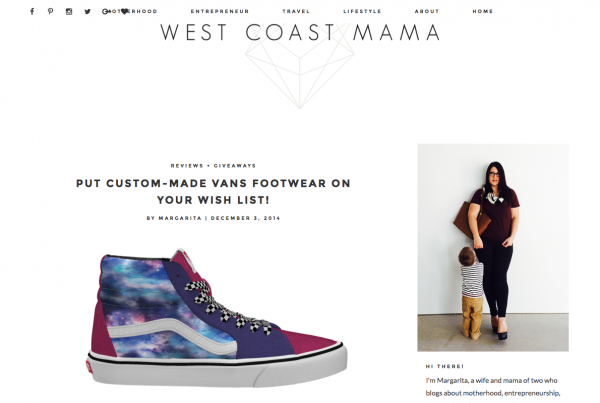 Determine how success will be measured
There are countless ways to measure success besides website traffic, but every brand needs to explain how they will judge the validity of a campaign. It's something that should be decided long before reaching out to influencers.
Here are a few benchmarks you can measure you campaign by:
Brand awareness: page views, downloads, referral links, social chatter, video views
Engagement: comments, shares, likes, pins, forwards, inbound links
Lead generation: email sign ups, conversion rates, form downloads and completions
Sales: online, in store, upsells and cross-sells
Determine which metrics will be most vital when measuring your campaign's success.
Brands interested in sponsored social should research the idea, and reach out to a company that's handled sponsored social campaigns in the past. With the right direction, you'll be able to use this new marketing approach to promote your product or service in a new way.