What's your take on McDonald's food? Are you curious about the Big Mac's "secret sauce?" Ever wonder what chicken nuggets are made of?
McDonald's knew there were a lot questions swirling around about its food. It launched a campaign to increase transparency and change the perception behind some of their popular foods.
The result was "Our Food. Your Questions." The crux of the campaign revolved around a website where customers could ask any question they wanted about McDonald's food.
Since its inception, the Q&A campaign, which started in Canada, garnered more than a dozen awards from the advertising industry, and has launched in several other countries, including the United States, France, Australia and New Zealand. In fact, the concept has proved so successful that Jay Baer of Convince & Convert referred to the campaign as "the best example of content marketing ever."
How it works
Initially, the campaign launched with a YouTube video directing viewers to submit questions via Twitter or Facebook. At the time, the chief marketing officer promised that, "Every question without profanity would be answered." McDonald's was getting as many as 450 questions per day.
Today, the international campaigns gather questions through their websites and social media sites, responding to the most popular questions on a dedicated website. The more popular FAQs are sometimes put into an infographic, like the one below, or supplemented with a video, like this one about the type of fish used in the Filet-O-Fish.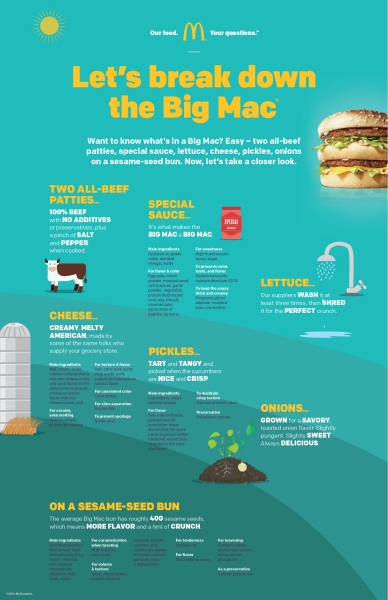 Topics range from nutrition and sustainability to ingredients and menu offerings, and many offer links to other pages on the site, and they aren't all softball questions. Here's a look at few:
"What's in your chicken nuggets?"
"Do you use cage-free eggs?"
"Is your beef grass fed?"
The Q&A sites sometimes embed behind-the-scenes videos showing things like how McDonald's "primps" food for photo shoots and McDonald's executive chef sharing the not-so-secret "secret" recipe for the Big Mac sauce are meant to be both entertaining and informative.
Why it works
Controlled content. Companies can't control what customers say about their brand, but they can provide the public with information to help cut back on rumors. An owned channel lets McDonald's share controlled content in a variety of mediums in one location.
Engagement. According to McDonald's Canada, during the first year of the campaign, visitors to the campaign's designated website read about 12 questions and spent an average of four and a half minutes on the site. That's some serious customer engagement.
Reach. With the reach of social media, reputation management becomes harder each day. But a designated website for FAQs nips many questions in the bud before a customer even needs to ask. In it's first year, the Canadian campaign had garnered 16,000 questions, but 3.1 million had been read.
Customer service. The campaign is a great example of how customer service and content marketing can complement each other. The campaign takes a break from promoting the brand and instead uses valuable content as a customer service tool.
Trust. Customers today are looking for honesty, even if it's not always the answer they want to hear. By sharing the good and the bad, McDonald's is showing its fan base that it respects them enough to make their own decisions about food. Authenticity builds trust, and McDonald's "Our food. Your questions." campaign is a great example of that.