Have you run a photo submission contest on Facebook, or collected brand-inspired stories from your customers on Twitter? If so, you've conducted a social media campaign that collects user-generated content.
A lot of marketers use this strategy to engage fans, build brand awareness and collect personalized content from their customer base. Whether this social concept is in your bag of tricks or not, few brands have done it better than Dove.
Dove's #BeautyStory campaign can provide some great takeaways for marketers looking to up their social game.
The inspiration behind the campaign
The campaign was inspired by a letter from a customer, who considers Dove Beauty Bar the family's best kept beauty secret. Inside the letter was a picture of four generations of women that have passed down Dove as a trade secret to youthful skin.
That sparked an idea. Dove went out and made a video of the family and used it to kick off its #BeautyStory campaign.
Dove realized how much influence a mom has over beauty tips. The campaign asked fans to honor the women in their life that have taught them to live beautifully.
The responses come pouring in
Dove asked its fans to send a picture of their mom, along with the beauty lesson she passed down. The campaign lasted for several days leading up to Mother's Day.
The result was hundreds of pictures and personalized stories that everyone could relate to. Dove created an entire gallery on its website devoted to this campaign, and shared the stories on its social channels like this: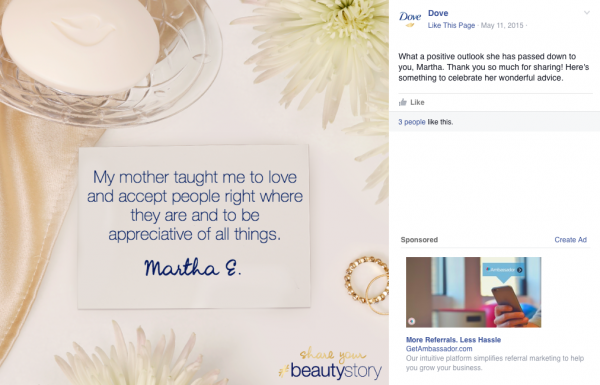 What marketers can learn from the campaign
Dove's #BeautyStory was a hit, so what can marketers glean from this campaign? Here are four lessons:
Making an emotional connection is best
Marketers are always looking for a way to get their audience to make an emotion connection to their product. After all, emotions drive sales. The best way to tap into emotions is to make your brand relatable. Dove's campaign taps into the mother-daughter connection, and that's something everyone can relate to.
Collecting user-generated content isn't dead
A lot of brands ask fans to submit a photo as part of a campaign, but Dove proves this method works. With a little creativity, you can collect a ton of user-generated content that can be used to engage followers and market your brand.
Don't just collect a bunch of photos and share them on your Facebook page. If you're running a user-generated contest, be prepared to utilize the content that you collect. Dove created a photo gallery, but there are lots of applications for the content. With consent, you can use the photos in marketing brochures, as your Facebook cover art, on your website – the list goes on.
Every social campaign should have its own hashtag. It might seem like a no-brainer, but you'd be surprised how many campaigns lack hashtags.