Fitness is moving to a different level in the digital age, and resources are available to everyone interested in improving their physical health. As in most fields, there are some who are having a huge impact with their fitness regimens and gaining a lot of followers in the process. We've identified the top 10 fitness influencers here.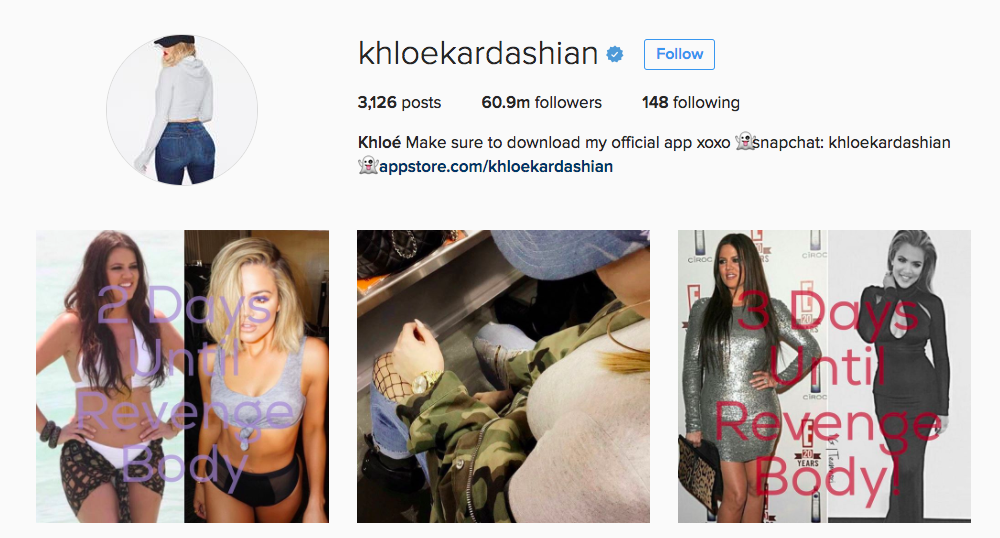 Khloe Kardashian is one of the most stratospheric Instagram fitness influencers marketing celebrity with 60.9 million followers. Her new focus on fitness has extended her family's entertainment empire, and she guides her followers in managing emotional issues through physical fitness.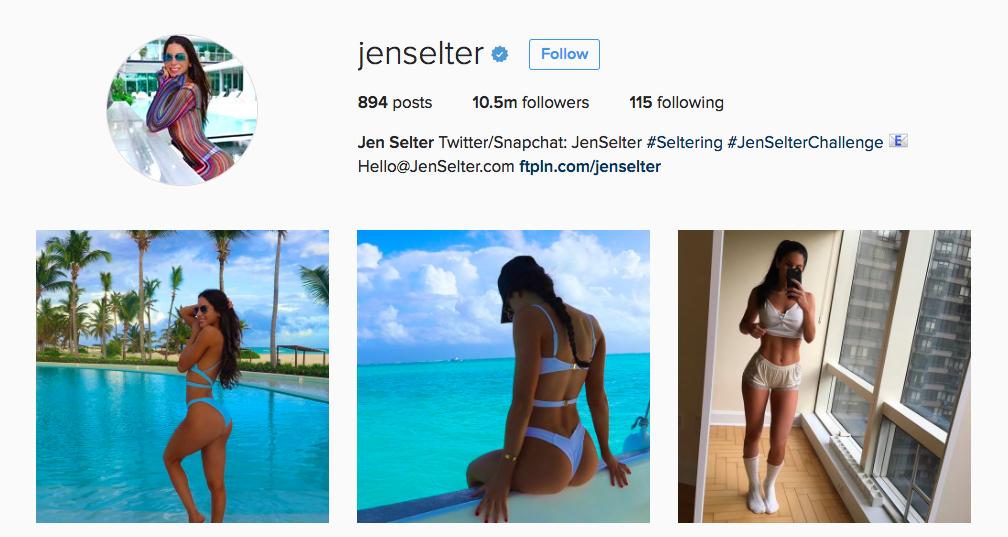 Jen Selter is one of the top fitness influencers with an audience of 10.5 million on Instagram alone. Jen is not a formal trainer, but her followers are inspired by her real-world fitness routines and amazing results.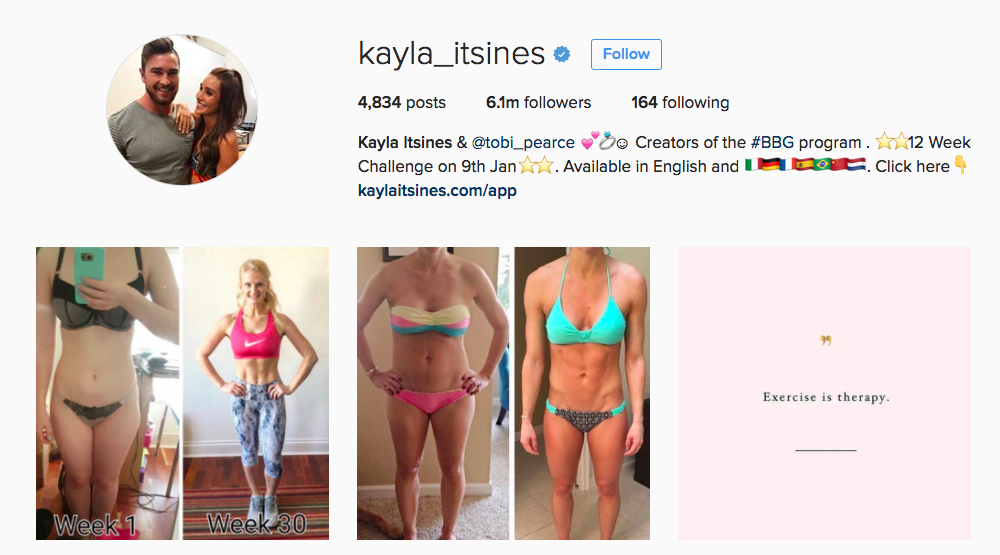 Kayla Itsines' fans are obsessed with her BBG—bikini body guides—which push women to the ultimate in physical fitness. Kayla has 6.1 million Instagram followers who are devoted to her e-guides and subscribe to her app, Sweat with Kayla, where users can get monthly access to her workouts on their mobile devices.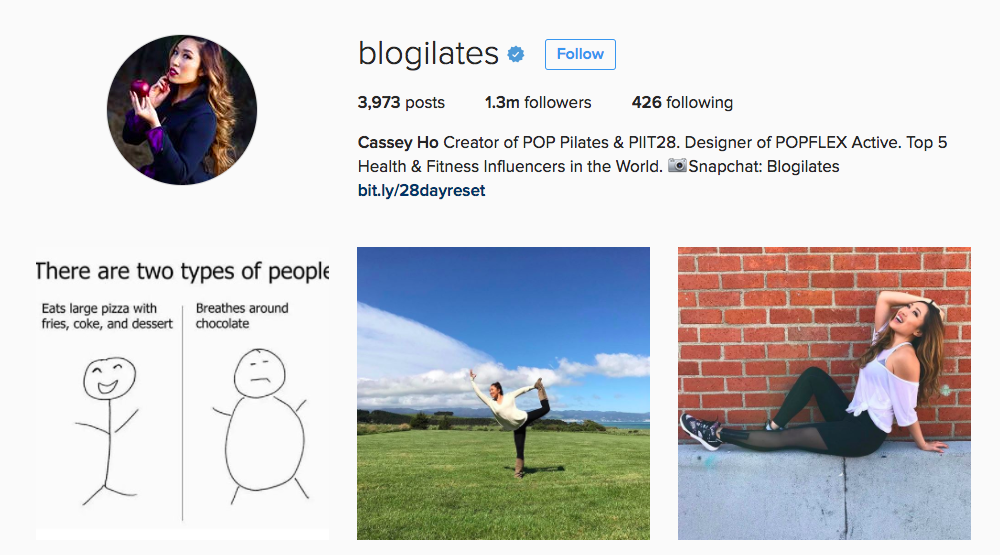 Cassey Ho, the Internet's Pilates Princess, started her influential fitness following with videos on YouTube, where she has three million subscribers. Cassey also shares her fitness plans, healthy recipes and workout style via beautiful images with her 1.3 million Instagram followers.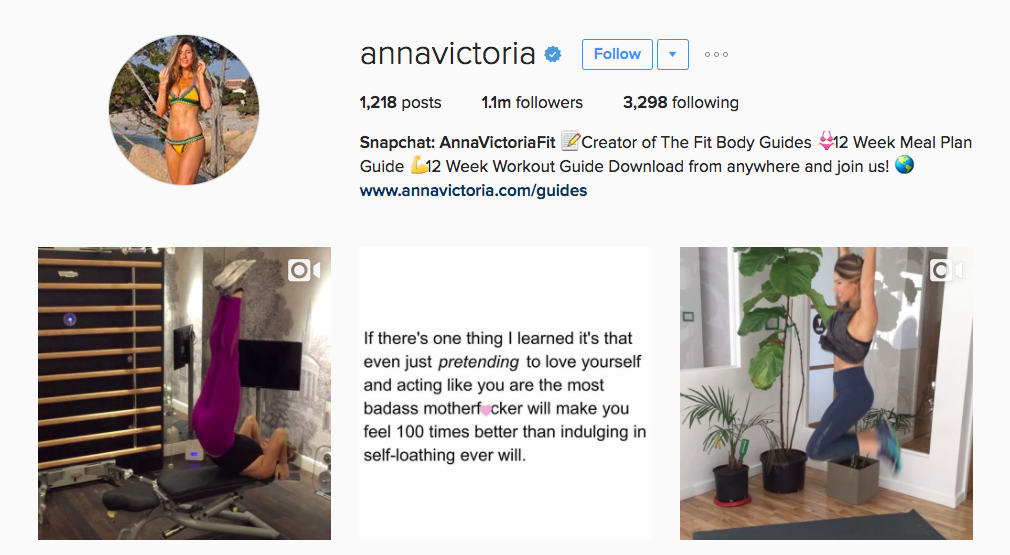 Anna Victoria's 1.1 million followers love that they get real results with her Fit Body Guides and her #FBGgirls community. Fitness can be hard work so Anna lightens the sessions with her sense of humor, clean eating ideas, before-and-after client photos and probably the best time you can have working out.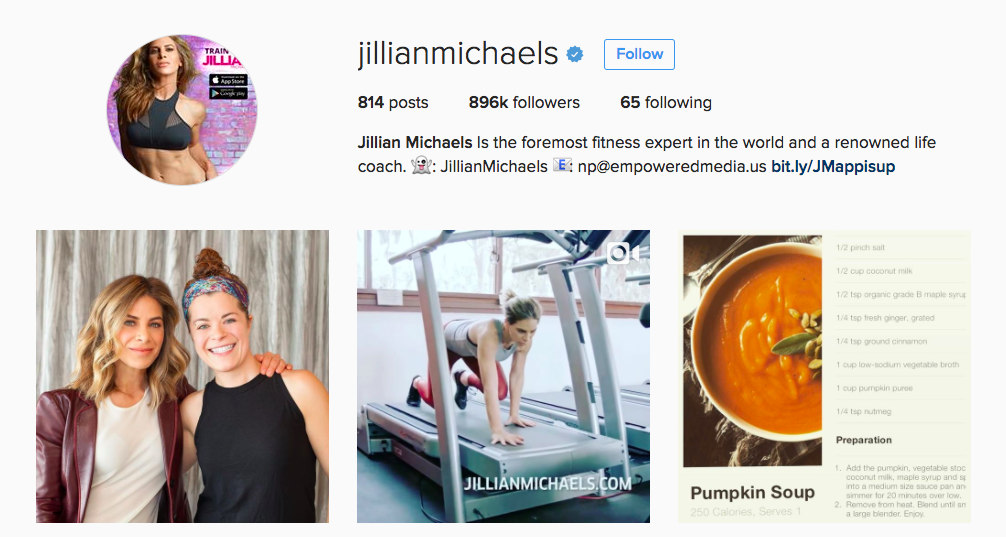 Jillian Michaels, known as the Lb Annihilator, is a personal training and TV fitness guru who took her teaching online to become one of the major fitness influencers on Instagram. Her podcasts, DVDS, books and programs have an enormous following, launching her into more television programs aimed at those who love her no-nonsense style of maintaining a fit and healthy lifestyle.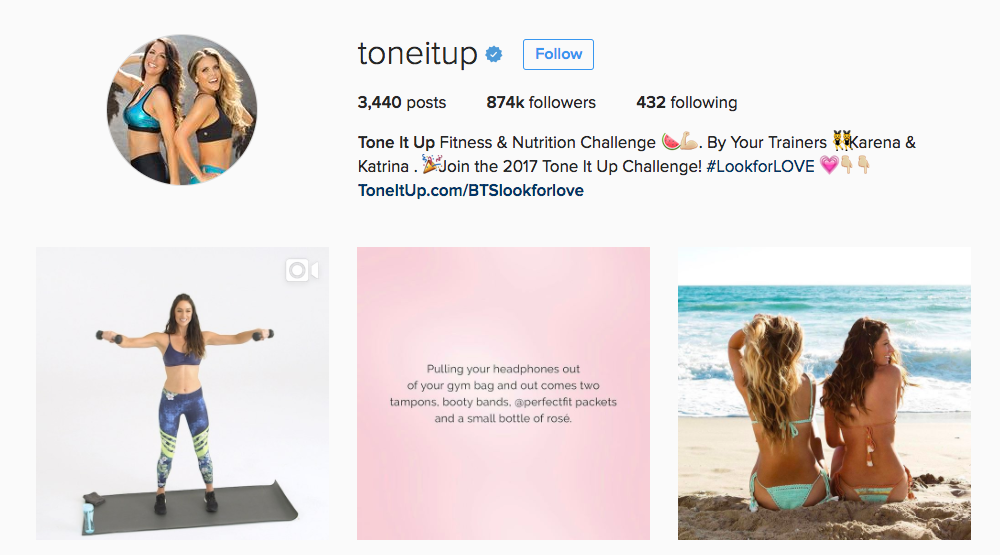 Karena Dawn and Katrina Hodgson, also known as the Tone It Up Girls, are BFFs who share fitness tips from celebrities as well as fitness routines on their YouTube channel. Their Instagram followers will also find healthy recipes, bikini-body DVDs and beauty products, which makes them a top influencer.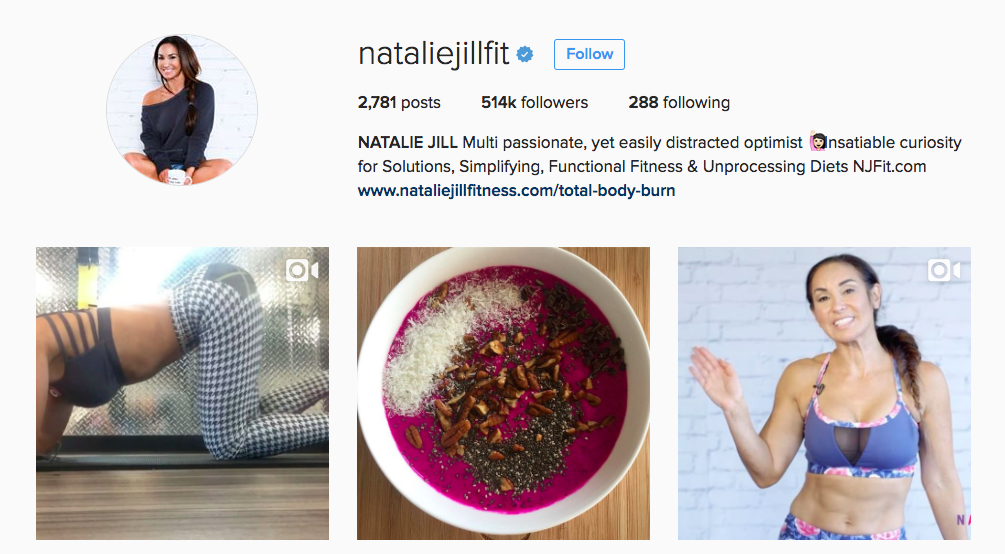 Natalie Jill started her own fitness regimen after having a baby and going through a divorce, so the information she shares is authentic for her significant social media following. Her 15-second videos on Instagram make fitness look easy and make her relatable—a critical component in being an Instagram influencer.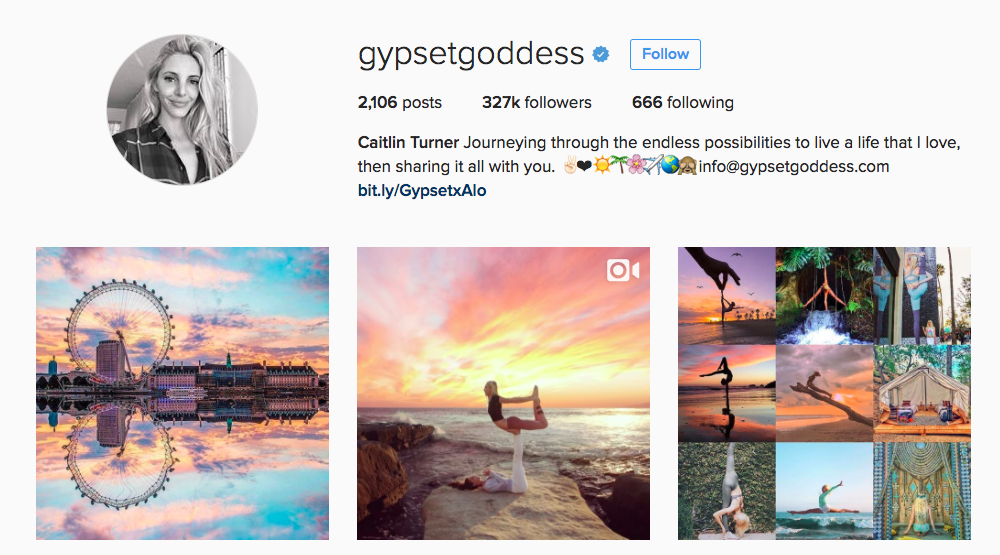 Caitlin Turner has built a huge Instagram following by providing endless inspiration through her yoga poses set in breathtaking settings from her worldwide travels. Called "The Gypset Goddess," Caitlin's blog covers not only fitness along with travel, food, and healthy lifestyle topics.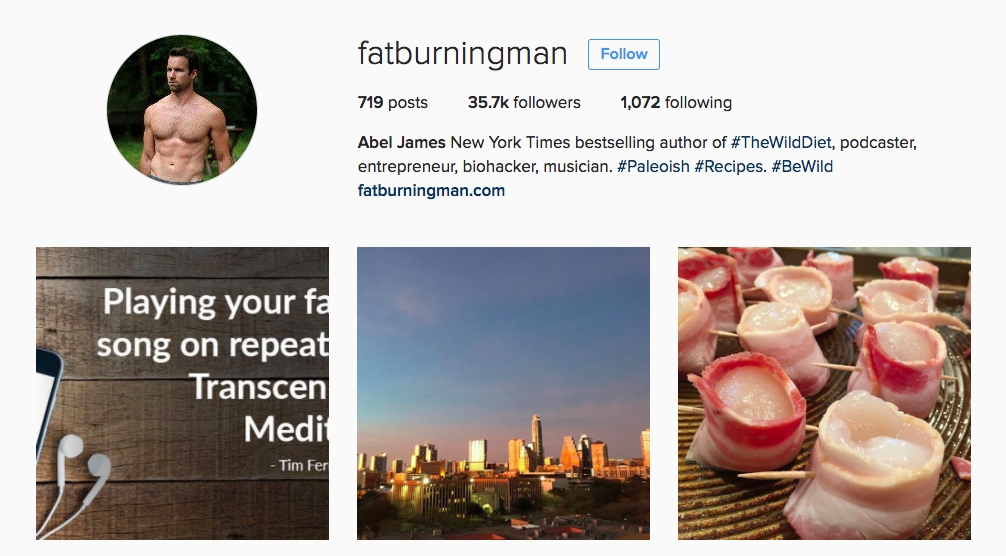 Abel James, also called the Fat Burning Man, is a self-taught fitness and diet expert who ditched his own doctor when his methods weren't working to get him into the shape he wanted to be in. Abel's blog, podcast and other resources tackle real-world fitness challenges with exercises, inspiration, and healthy recipes.
Just as different people have different levels of fitness, there are social media influencers in the industry who have built communities of followers who appreciate their different personalities, styles and particular brands of achieving goals. And in today's influencer marketing world, where relatability is the main objective in developing a strong following, these top social media influencers show that they have what it takes to build real staying power for social media success.
If you didn't make the cut (or know someone who should have), let us know in a comment and maybe we'll add them!