The tides of marketing are changing. Millennials have now surpassed Baby Boomers in number. With 75.4 million Millennials, this demographic is now the nation's largest living generation, and they aren't adhering to traditional marketing and advertising methods.
In fact, research shows 84 percent of Millennials don't trust traditional advertising. So, how can brands reach this demographic? Seventy percent of Millennials value endorsements on social media from non-celebrities, or people they consider influencers or peers.
These statistics explain why more brands are partnering with influencers on social media to market their products and services to 18-34 year olds. A brand compensates an influencer for creating certain posts about their service or product in an effort known as "sponsored social" posts.
Marketing experts see the value in sponsored posts, particularly when it comes to Millennials.
"In general, this group relates to 'their influencer' more than they have ever done with any media outlet, media channel or similar," says Daniel Kjellsson, Co-founder of creative talent agency Sydney Stockholm.
Wondering which brands are embracing this phenomenon? Here's a look at three brands using sponsored social to reach Millennials:
Clinique
The beauty brand reached out to several young bloggers to market their line of skincare products. Writer Tavi Gevinson, fitness guru Hannah Bronfman and fashion blogger Margaret Zhang were just a few influencers that Clinique teamed up with for its #FaceForward campaign that touted the company's three-step skin solution.
Here's a shot of Zhang that Clinique shared on its social sites: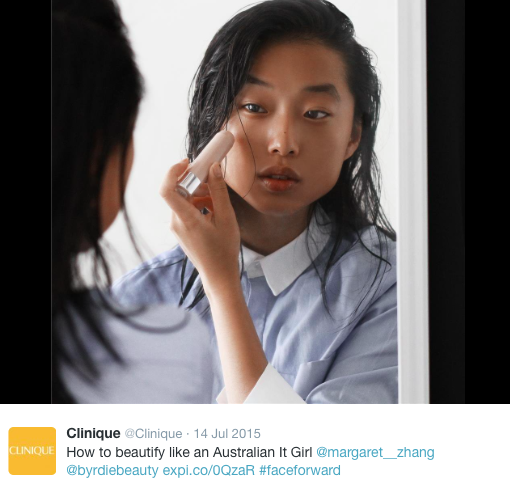 The campaign uses younger influencers to sway the purchasing habits of young buyers.
Harrod's
Harrod's, the famed designer department store in London, took sponsored posts to a new level. The company asked young fashion blogger Jessie Bush to review several pieces of its new fashion line on her blog, We the People Style. That kind of sponsored post is usually the extent of a campaign for most brands, but Harrod's also included links in each picture to allow shoppers to buy the clothes with ease.
Swarovski
Luxury brand Swarovski, known for its premium jewelry and fashion accessories, used sponsored social to grow its popularity outside of its home base in Austria. The brand teamed up with four international bloggers, asking each one to create videos about a Swarovski product.
Here's a look at several of the videos that were created and shared on Facebook with the hashtag #SwarovskiLook.
The idea was to generate some buzz around fashion accessories that have mass appeal with the younger crowd. The sponsored videos provide digital word of mouth for the company that's looking to spread its brand awareness.
Wrap up
Increasingly, brands are turning to sponsored social to reach their target market. While some brands were slow to move to the new medium for fear of limited success and unknown consequences to a brand's online reputation, these concerns are quickly fading away as success trumps these fears.
Research supports the success of sponsored social posts, which explains why 70 percent of brands increased their social marketing budgets in 2015.