It is with the heaviest of hearts that we share our friend and team member Casey Shea passed away on Sunday, September 23. She lives on in our hearts and memories. In memorial we share our fondest remembrances of how Casey impacted our lives and will continue to do so for as long as we live.
Ted Murphy, CEO
"Casey was a beloved colleague and friend to so many people at IZEA. She filled the room with her smile and beamed with positive energy even in challenging situations. Quick with a joke, but quicker with a helping hand, she will be long remembered as a wonderfully vibrant person that we are all lucky to have had in our lives.  Tell someone you love them tonight. Giant hug."
Kate Milton, Executive Director, Client Services
"My favorite memories about Casey were more so around the nuggets of her personality. One of her most endearing qualities was the ability to connect with everyone about anything. We talked earlier this week about her love for Bees and Butterflies, and how she connected to so many people about those. However, with me it was always pineapples and flamingos. Our Insagram DMs were all about them, and often times she would leave little gifts at my desks (Pineapples or Flamingos) whenever she found something that reminded her of me.  Just a few weeks ago she left two little keychains, for me and Caroline (my daughter), that she saw at Target and she *had* to get for us! She always found a way to leave a gift and sweet note on the days when you needed it most. She was a beautiful soul."
Veronica Holmes, Campaign Manager
"Most of mine are not appropriate. However, this Tweet exchange might be my favorite."

Julia Paciga, Campaign Manager
"You don't realize how much time you spend with someone, until they're gone. We were friends outside of work, but we spent an easy 50 hours a week together – and at least 1 hour a day was devoted to laughing "
Molly Hall, Campaign Manager
"Too many to name, but as early as last week there was someone in a conference room near our desks with the door ajar and was on a loud conference call. As casually as ever, Casey got up and shut the door all the way and said "It's like Panic! at the Disco in here." Since her quick wit was much faster than me, I look at her confused. And she didn't miss a beat – simply said "haven't you ever heard of closing the goddamn door?" Needless to say, it left us in stitches from laughter because she was one of the funniest people. ever."
Sadie McLean, Senior Account Director
"It's hard to find words to describe Casey that really capture her magic so I'll say just that- Casey was magic. She had this insane ability to make everyone around her smile and feel loved and important. She loved to dance and was always laughing. She was always the first person at IZEA events greeting the out-of-towners with open arms. We first bonded over our childhood love of Polly Pockets and called each other "Polly." We decided that we should be able to carry our friends and family in our pockets for our own convenience. Now, we'll do our best to carry a little bit of her magic with us. We love you and miss you, Casey.
Hailey Utke, Account Director
"I LOVED being on the Office Fun Committee with Casey. Our company culture is something that is so important at IZEA and Casey embodied it perfectly. She was great at using humor to get the creative juices flowing. I sat next to Casey in phase 3 of IZEA for almost a year and every single day was hilarious thanks to her. You never knew what to expect when it came to Casey. She was so clever, and sarcastic. She was always able to make any story the most hilarious story by her delivery alone. She definitely had the ability to captivate an audience."
Addi McCauley, Senior Account Director
"One of my favorite memories about Casey is the exact same reason that I knew she and I would be a CM + AD dream team. It was our shared love of Mexican food and general agreement that in Texas, you can find the best Mexican food around. When Casey and I were first getting to know each other over Slack, I felt an instant bond when she shared how much she loves Texas (my home base). We talked about how a nice plate of tacos – with a big margarita, of course – could cure any stressful workday. Needless to say, this Slack exchange told me I'd found my 'work soulmate' and we were going to get along quite nicely. No offense to the other IZEA CM's (who are all fabulous), but Casey would joke she was my favorite. And you know what, she was. Because I'd found someone who spoke my language – food. Each time I chow down on a big plate of TexMex, I will think of Casey fondly. You better believe I will take an extra large sip of my margarita just for her. "
Sabrina Pacitto, Associate Campaign Manager
"I've been with IZEA for just under a year, as a Campaign Manager on Casey's pod. She was always there to support me and the team; you could tell she was the type of person that wanted us all to succeed and be the best we could be in our roles. I appreciate all that she taught me and having such a great team leader to guide me along the way. Thank you, Casey, for sharing your knowledge, wit, and caring-self with all of us."
Chelsea Riffe, Account Director
"I just moved to our HQ last week, 2 desks down from Casey Shea. She was the light of that whole part of the office. Sooo funny. So dang witty.  Clever. Not to mention hard working, a boss, had a life of adventure outside of work.  She crushed the campaigns we worked on, and was more than a coworker.  She actually cared about a lot of people both close to her and not.  She unexpectedly passed recently, and I still can't process it. Casey will live on with her humorous soul, and remind us all not to take life too seriously. Casey Shea – I know you're still with us. Your spirit and laugh were too contagious not to be.  I hope you're tweeting from up above because we sure need a laugh down here. Rest in Peace, you genuine, authentic, hilarious angel."
Taylor Sicinski, Associate Account Director
"Casey was one of the first few people I met at IZEA. She had interviewed me for my current role and after a few short minutes in the interview, she lit up the room with her energy and wit. I will forever thank her for breaking the ice and making everyone around her laugh and smile."
Jared DiBartolo, Associate Account Director
"The first time I met Casey was during my panel interview session here at IZEA. Before I share this story it should be known that I had never been more nervous for an interview in my life. As my interview came to an end, each team member in the room asked me to answer an 'Ice Breaker.' When it came Casey's turn to fire away she asked me, "What is your favorite salad topping and why?" to which I quickly replied "Black Olives." Before I could utter my reasoning, Casey had looked at James and said, "I don't think this guy is gonna work out." The entire team erupted in laughter while I sat there sweating bullets from the comment she made. Looking back at it, that was one of the most hysterical interview's I had ever been on and it was all thanks to Casey."

For those who are interested and able, we have a few ways to support Casey's favorite organizations
Items sale inspired by Casey's feverish passion for bees: IZEACares Tictail Store.
The link will be live until Nov. 30th and all proceeds will go to The Honeybee Conservancy. Feel free to share with friends and family.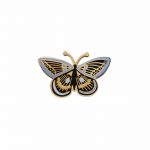 Enamel butterfly pins by Rifle Paper Co.
100 enamel butterfly pins are on sale for $10 each. Proceeds will benefit one of Casey's charities her family had designated. If interested, please fill out this form.
Donations are also being made in Casey's name to the following organizations:
We will never forget you, Casey. Rest easy.