Skin care YouTube channels should be a part of our routines. When you look good, you feel great. Consequently there are plenty of beauty influencers online to help you start each day with a glowing complexion and a positive outlook. Here are 25 of the best skin care YouTube channels to help you get the look you love.
Top 25 Skin Care Youtube Channels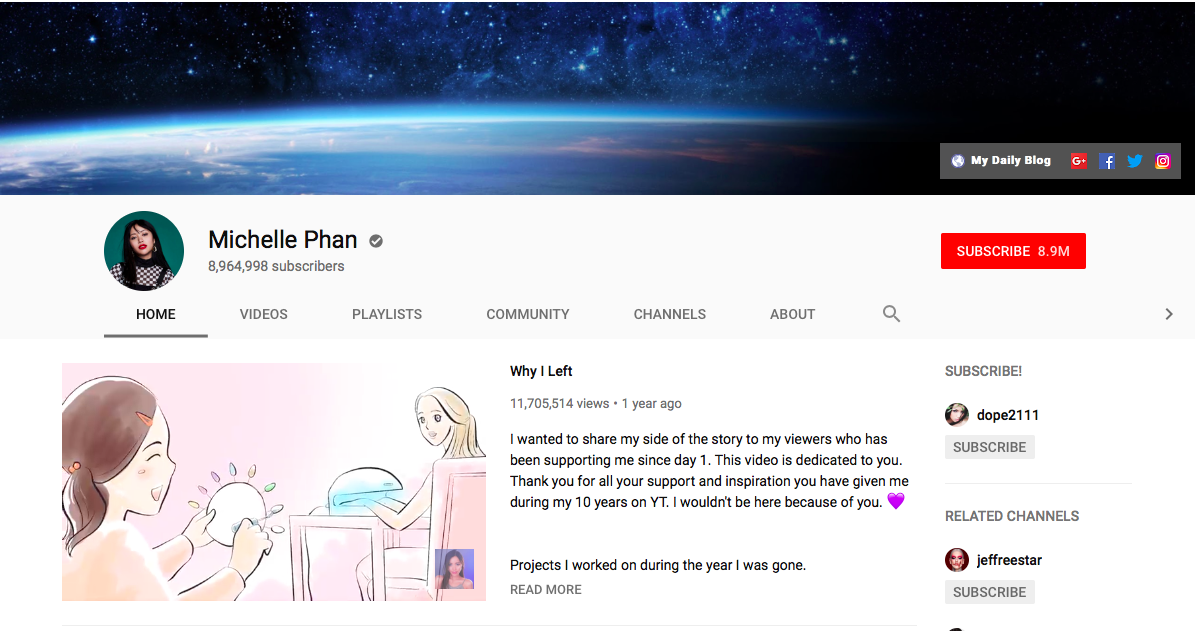 Michelle Phan
Michelle Phan no longer uploads to her skin care YouTube channels. But it would be remiss to talk about the most inspiring and influential social media stars without mentioning her. She was one of the first YouTube beauty influencers, and cofounded Ipsy, a subscription-based cosmetics box service. She left YouTube in 2017.

Gothamista
Renee, aka Gothamista, is a "skin-thusiast" who spends her time seeking out everyday necessities and indulgent luxuries. With over 10 years of experience in the beauty industry, she knows what she's talking about. As a result, her skin care YouTube channel has over 350,000 followers who watch her trying out a variety of products.

Eti Frank Skincare
Francis Etieno started uploading in 2016 and has amassed an audience of over 247,000 subscribers. Her skin care YouTube channel, Etc Frank Skincare, covers all aspects of skin care and beauty. From natural remedies to dental care, they isn't anything she hasn't covered.

Rabia Skincare
Rabia has one of the top skin care YouTube channels that focuses on natural and home remedies. She speaks on a wide range of skin conditions, such as acne, scars, and wrinkles. The channel has over 818,000 followers.

Simple Skincare
The Simple Skincare channel isn't the work of a beauty influencer. It's the official channel of the branded skin care range. Rather than simply trying to sell products, the channel takes a holistic approach to great skin. They hit on products that supplement healthy lifestyle choices like exercising and eating well.

Kaushal Beauty
With over 2 million subscribers, Kaushal Beauty is a real YouTube success story. The channel covers all aspects of beauty, including live makeup and skin care tutorials. Equally, the channel has a strong human element using a wedding day as an opportunity to build the brand.

Melissa55
The best beauty influencers lead by example, and Melissa is an exceptional example. She's a 63-year old mother of two, but you wouldn't think so to look at her stunning videos. Clearly, she knows what she's doing, which is why over 76,000 subscribers are regularly logging in to see what she's up to.

Nicole Guerriero
Nicole has established a loyal fan base comprising more than 2.9 million subscribers. It's hardly surprising. Appropriatly her upbeat and motivational videos provide fantastic tips and tutorials for everything from daily skin care to creepy Halloween looks.

Jaclyn Hill
Professional makeup artist Jaclyn Hill uses YouTube to illustrate how to get a range of looks while maintaining healthy skin, and has even had Kim Kardashian on the channel as a celebrity collaborator. Thus she has a loyal following of 5.2 million subscribers, and supplements her video content by being very active on Instagram and Twitter.

Ingrid Nilsen
Ingrid Nilsen is a beauty influencer who understands the importance of taking care of your skin. Her videos about keeping skin hydrated, and dealing with problems such as acne, give her 3.8 million subscribers. She has collaborated with top brands, including Simple Skincare.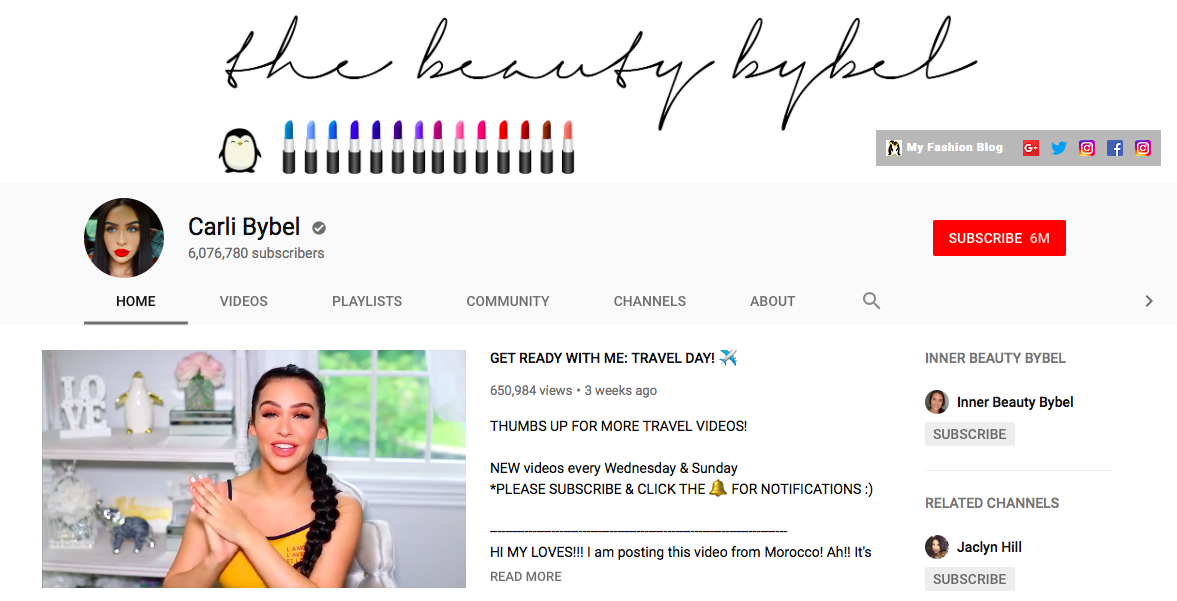 Carli Bybel
Carli Bybel is a successful beauty influencer and makeup artist. This has lead to collaborations with several famous people. Suitably, she uses YouTube to share a mix of tutorials and vlog-style "behind the scenes" stories with her 6 million subscribers.

Manny Mua
Not all beauty influencers are women. Manny Mua is a highly successful "boy beauty vlogger." His approach to makeup as being genderless and without rules has earned him 5.1 million subscribers on YouTube. As a result, many of his tutorials consider the importance of skin care.

FlawlessChristina
A YouTube channel with 7,500 subscribers yet only five videos and nothing new for over a year? Some beauty influencers are using YouTube to provide daily content, but Christina uses her account as a funnel, showing off videos of her personal victory against eczema. Appropriately her official website promotes "The Flawless Program," a new way to clear your skin.

NikkieTutorials
Nikkie is one of the most influential makeup specialists on YouTube, with over 10 million subscribers. She developed her audience over almost a decade, and sticks to a rigid release schedule. Fans know when new content is incoming, certainly making it possible to maintain her position as one of the best skin care YouTube channels.

Beauty Within
Beauty Within seeks to inspire women through beauty and wellness content. As a result, the channel has over 1 million subscribers.

Safiya Nygaard
Beauty and fashion go hand-in-hand. Safiya Nygaard covers both topics with just a touch of "weirdness." That's why 5.3 million subscribers can't get enough of her fun videos. Watch as she tries out different styles, or puts new beauty products to the test.

Tati
Tati shares unbiased product reviews, tips, and tutorials. If you want to make sure you're investing in the very best beauty products, consider joining her growing army of 4.2 million subscribers.

TheBeautyBreakdown
Morgan Alison Stewart's videos cover all aspects of beauty and fashion. Similarly, she talks about summer skin care, product testing, and treating acne scars. Her fun and friendly style has earned her over 520,000 subscribers.

Liah Yoo
In 2016, Liah suffered from severe acne. Now the self-confessed "skincare nerd" looks fantastic. As a result, she shares all of her secrets and tips with 512,000 subscribers.

Apsara Skin Care
Interested in making DIY facemasks to help your skin glow? Want to beat acne and oily skin with turmeric? Join Apsara Skin Care's growing audience of over 11,000 followers to learn how.

Nitraa B
Nitraa B takes a holistic approach to feeling great. She combines beauty, skin care, and lifestyle content to help people live better. Where else are you going to find advice on decorating your guest room and how to look good doing it?

Murad Skincare
The official Murad Skincare YouTube channel is a promotional tool for the branded skin care products. Murad Skincare has plenty of great content. However this YouTube channel is among the smaller ones with only 5,000 subscribers. He is proof as to why influencer marketing is becoming a popular alternative to traditional promotions and marketing for many companies.

Tata Harper Skincare
Tata Harper Skincare is another YouTube channel run by a company. Fittingly, the focus is on 100 percent natural, non-toxic products.

Wayne Goss
With over 15 years of experience as a professional makeup artist, Wayne Goss knows how to care for skin. Therefore quality content and a regular release schedule have earned him 3.3 million subscribers.

Pixiwoo
Pixiwoo is the "makeup channel for all ages." Fun, family-friendly content and excellent tutorials for skin care regimens and funky looks have attracted an audience in excess of 2.1 million subscribers.
Final Thought: Taking Care of Your Content Marketing
YouTube channels with the widest reach tend to be those run by beauty influencers rather than companies. Interested in the beauty industry or struggling to find your voice on social media? Consider reaching out to some of these influencers to start developing your influencer marketing campaign.