When I first thought about starting this company I had a vision. My vision was that one day everyone would be a content creator. That was back in 2005, and a lot has changed. YouTube. Twitter. Facebook. iPhone. iPad. Snapchat. Our world has been transformed radically in a very short period of time. From students to grandparents, billions of people are finding their voice via the Internet. The vision is becoming a reality faster than I had ever imagined.
We are the pioneers fueling the democratization of information, entertainment, marketing and commerce. Our platforms fund the American dream for the next generation of artists, poets, film makers, photographers, thought leaders, comics, actors and musicians. What you do here will impact hundreds of thousands of people directly and influence the actions of millions more.
We matter. You matter.
This is a huge opportunity. Make the most of each day. Take pride in what you do. Above all remember that you will get out of this experience what you put into it.
Ted Murphy
Founder/CEO
To champion the world's creators, and connect them with opportunities to monetize their content, creativity and influence. 
Every team member that joins the IZEA family is granted stock options.
These options represent your ownership in the company. Their ultimate value will be based in-part on your hard work to grow the company and create a return on investment for all of our stakeholders.
"The only way to do great work is to love what you do.
If you haven't found it yet, keep looking. Don't settle."
– Steve Jobs
We believe the only way to survive in our rapidly changing world is to change ahead of it.
Our company is in a state of constant evolution and reinvention. While we have been around for awhile, we operate like a scrappy startup. Your time here will be exciting, unpredictable and at times a bit crazy. It is a symphony of controlled chaos. If you don't like change you won't like it here very much…. but if you do, we invite you to make some music with us.
While the people that work here come from various backgrounds, share different religious and political views, and possess diverse personality traits we all share some core values that we believe are important.
These values should underscore your experience here, providing guidance on your voyage and influencing your decisions along the way.
Love
We are passionate about our work and kind to those we work with. We are respectful, express gratitude, forgive others and help those in need.
Courage
We do what is right, regardless of the consequences. We challenge the conventional and don't back down.
Accountability
We are responsible for our actions. We admit our mistakes, swallow our pride and correct our shortcomings.
Fun
We work our tails off, but have a good time doing it. We have fun, embrace the laid back culture and enjoy our jobs.
Teamwork
We work together to solve problems. We place the team above ourselves and do what is best for the collective good.
Communication
We communicate with each other and our community. We listen to feedback and engage in constructive dialog.
Citizenship
We are good corporate citizens. We are involved in our community and contribute to the world around us.
At IZEA, we seek to change and further the lives of the Creators we serve.
Doing this on a daily basis requires a team that embodies, embraces and encourages diversity and inclusion. Our IZEA family is diverse in race, gender identity, ethnicity, sexual orientation, age, religion and physical ability. We collectively benefit from having a welcoming environment for all. IZEA is committed to have each and every member of the IZEA family feel included, safe and happy in their work life.
Our corporate culture is anything but corporate.
There are few offices. No real dress code. No corporate BS. We work and interact with each other more like a family than a company. You can speak your mind with our leadership team just like you would speak your mind with a friend.
We are an open, fast moving and free-spirited organization… but make no mistake, we are here to gsd and achieve our goals.
Giving back is an important part of what we do.
Each quarter the entire company participates in a charitable activity where we give back. In addition, we encourage individual team members to engage in their own passion project and rally the support of other IZEA team members.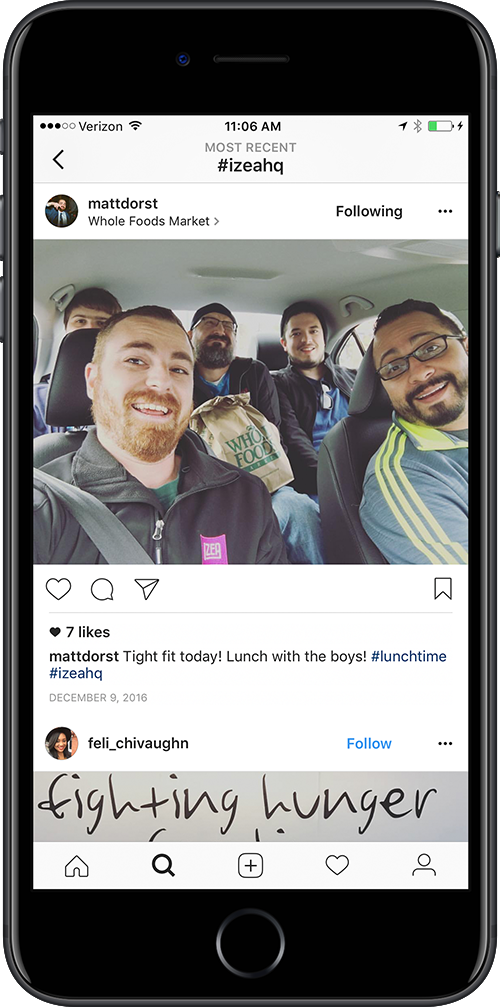 Our company eats, sleeps and breathes social media.
It is the very foundation on which our company is built. We encourage you to blog, Facebook, Twitter, Snapchat and otherwise share your heart out in a responsible manner. We want you to become a champion of our company.
The IZEAUp is a monthly meeting of the entire company. All team members participate in the meeting, regardless of their physical location. Remote team members video conference in. The leaders of each department deliver a brief update to the entire team. The goal of the update is to provide communication to all team members and keep them informed of company happenings.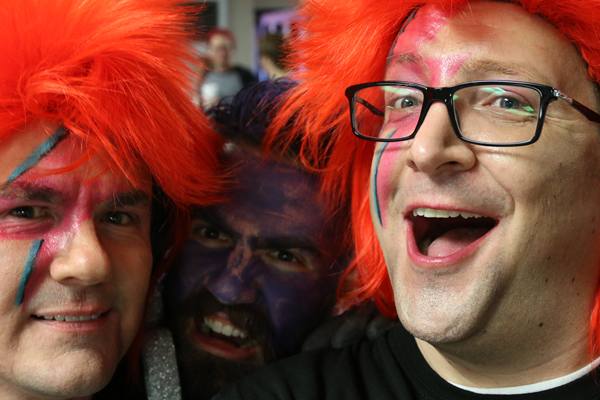 IZEA Loco is a celebration of our team and culture. This evening event happens twice a year and consists of team-building, training, education and collaboration. These events are designed to foster our culture and promote a healthy relationship with your fellow IZEAns.
Once a year the company gets together for 3 to 4 days of off- site team building, education, vision and recognition. These events are the stuff of legend and where many of your best memories and friendships at IZEA will be forged.
We are a team of people that will change your life for the better. We will open your eyes to what can happen when hard work, vision, passion, intelligence… and a little bit of fun come together.